NZFF 2013: 'To The Wonder'
NZFF 2013: 'To The Wonder'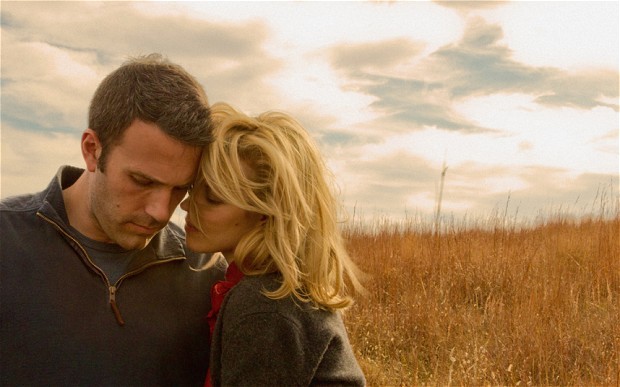 'TO THE WONDER'
2012 | 112 mins
DIRECTOR: Terrence Malick.
CAST: Ben Affleck (Neil), Olga Kurylenko (Marina), Rachel McAdams (Jane), Javier Bardem (Father Quintana), Tatiana Chiline (Tatiana), Romina Mondello (Anna), Tony O'Gans (sexton), Charles Baker (carpenter), Marshall Bell (Bob), Greg Elliot (parish council president), Michael Bumpus (doctor), Lois Boston (Lois), Danyeil Inman (homeless woman).
"A mere two years after The Tree of Life, Terrence Malick returns with something utterly characteristic yet much looser and more intimate. Here his rhapsodic contemplation of nature and humanity's fall from grace unfolds in a contemporary setting and draws explicitly on the erotic connection between man and woman. Ben Affleck and Olga Kurylenko appear as lovers whose joy in each other falters as they move, with her young daughter, from France to the plains of Oklahoma. Rachel McAdams appears as an old flame of Affleck's while Javier Bardem proves a brooding presence as a benevolent priest doubting his faith."
Watch the 'To The Wonder' trailer below...
Load next