Review: My Chemical Romance - Outer Fields, March 2023.
Review: My Chemical Romance - Outer Fields, March 2023.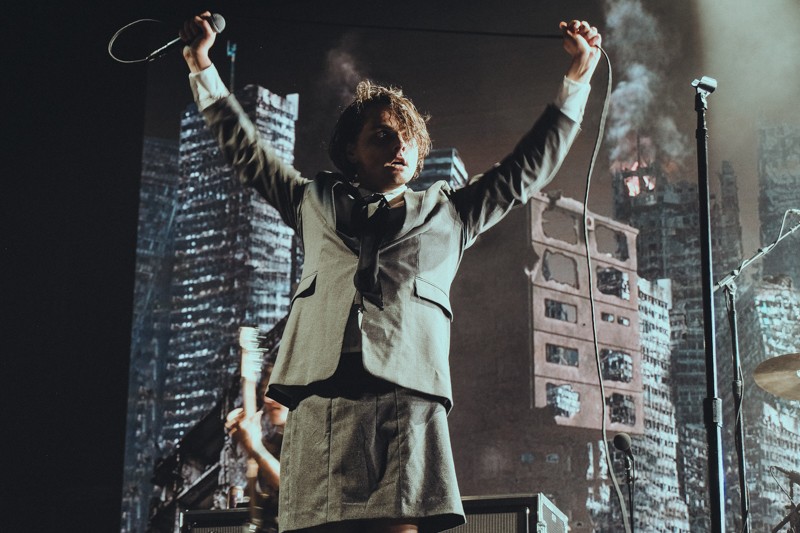 Fans in the front row scream: "We're home!" A nearby sign reads: "Thank you MCR." And My Chemical Romance frontman Gerard Way delightedly exclaims: "Fuck yes, my friends!" 17,500 devotees are gathered to witness the band's triumphant return to New Zealand - originally delayed by Covid-enforced postponements, so last night at Auckland's Outer Fields, My Chemical Romance played their biggest ever headline show in Aotearoa.
Returning for the first time since the 2012 Big Day Out (R.I.P.), the band kicked off the show with a hefty one-two punch of 2022 single 'The Foundations Of Decay', followed by 2004 breakthrough hit, 'I'm Not Okay (I Promise)'. And there's an overwhelming sense of community amongst fans - it's a nostalgic homecoming for them, but also an invigorating rebirth for songs that continued to be meaningful to listeners even throughout the band's hiatus. "Don't worry, I see you," cheers Way from onstage, confirming that no matter how weird or wonderful your costume (or innermost thoughts!), one will always feel truly understood and seen at a My Chemical Romance show.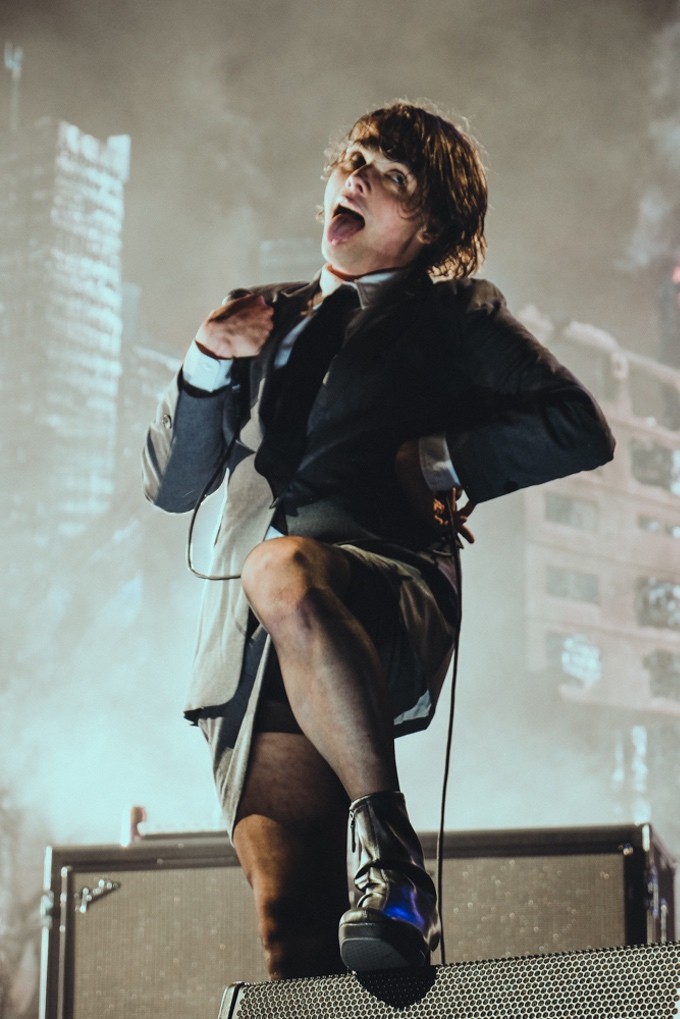 Preferring to let the band's full-throttle performance speak for itself, Way first addresses the crowd five songs into their setlist, explaining that while adjusting to jet-lag at night, he had looked up the local opening-acts online and been enthused to learn that Goodnight Nurse had specially reformed just for this show. And with no need for any introductions themselves, Way signs off with a simple: "We're My Chemical Romance from New Jersey."
"I watched a guy make a girl scream on command once, it was fucked up," confides Way (on a high after a rousing sing-along to 'The Black Parade' classic, 'Teenagers'), who may as well have been talking about himself - such is his control over fans whose rapt accompaniment to 'Famous Last Words' help him deliver the song into the night-sky with hymnal life-force. There's not one person in the venue who doesn't sing with Way: "Nothing you can say can stop me going home."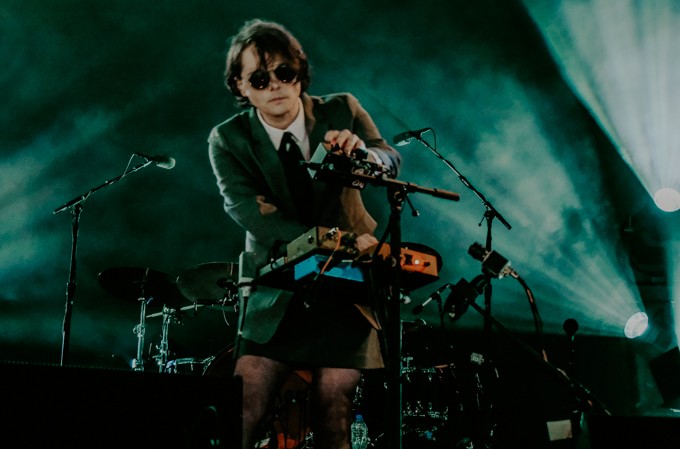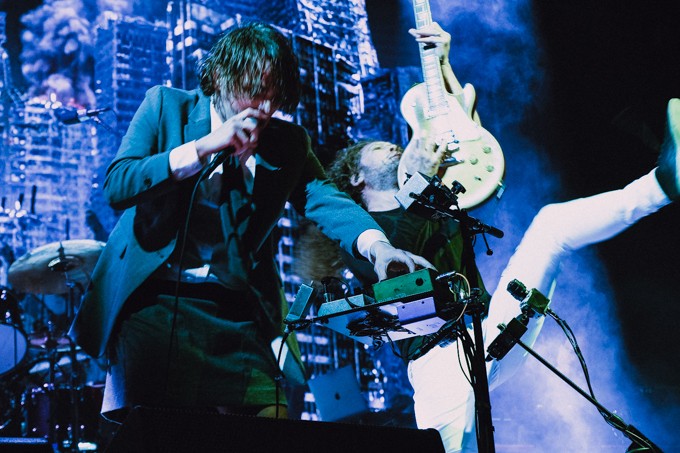 Almost thirteen years after being released, 'The Kids From Yesterday' still hits hard. About the song, bassist Mikey Way once said: "[The song] allows me to reflect on my entire life - being a kid, growing up, learning about the universe, entering adulthood, and pondering the future. In that respect, it acts as a time capsule / time machine in my mind. Countless memories pour out of me that I hadn't thought about in decades or had seemingly almost forgotten." And tonight, those feelings are universal - a communion at the highest level.
Performing against a backdrop of city ruins, My Chemical Romance delivered a hard-hitting setlist that ran the gamut from 'Three Cheers For Sweet Revenge' cuts, 'Give 'Em Hell, Kid' and 'The Ghost Of You', to 2010 album 'Danger Days: The True Lives Of The Fabulous Killjoys' singles, 'Na Na Na (Na Na Na Na Na Na Na Na Na)' and 'Planetary (GO!)'. Of course, 'Welcome To The Black Parade' closes out the night - a euphoric encore which Way segues into with a declaration of the night's resounding conclusion: "Be who the fuck you are!"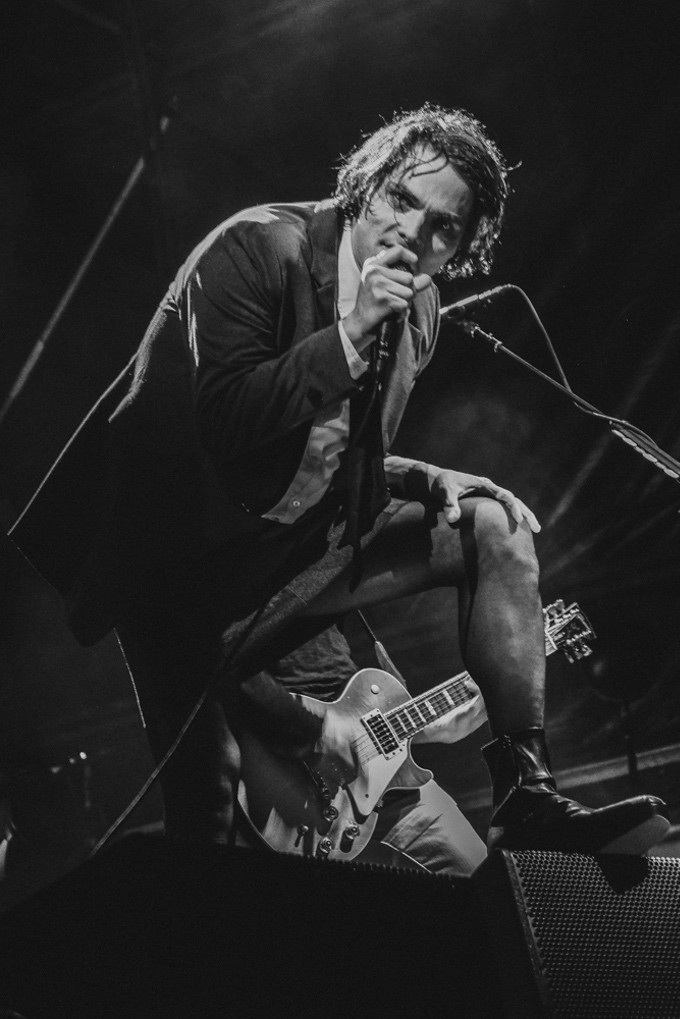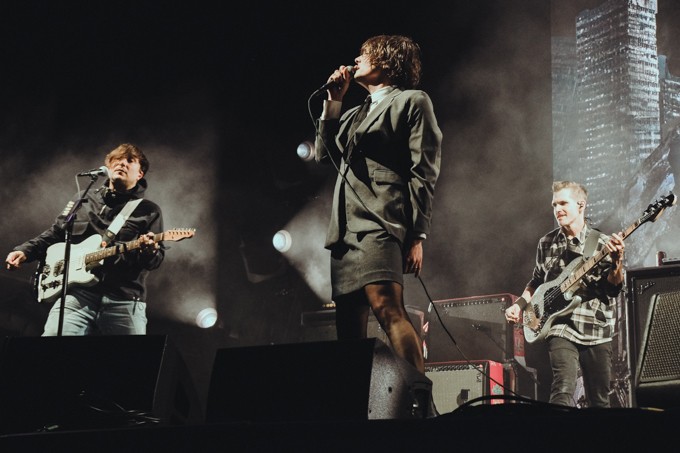 Set List:
The Foundations Of Decay
I'm Not Okay (I Promise)
Boy Division
Give 'Em Hell, Kid
This Is How I Disappear
The Ghost of You
Our Lady Of Sorrows
Teenagers
Thank You For The Venom
DESTROYA
Na Na Na (Na Na Na Na Na Na Na Na Na)
Vampire Money
Planetary (GO!)
Helena
Mama
Famous Last Words
The Kids From Yesterday
Encore:
Welcome To The Black Parade
Load next