Interview: Pickle Darling discusses their 2021 New Zealand tour.
Interview: Pickle Darling discusses their 2021 New Zealand tour.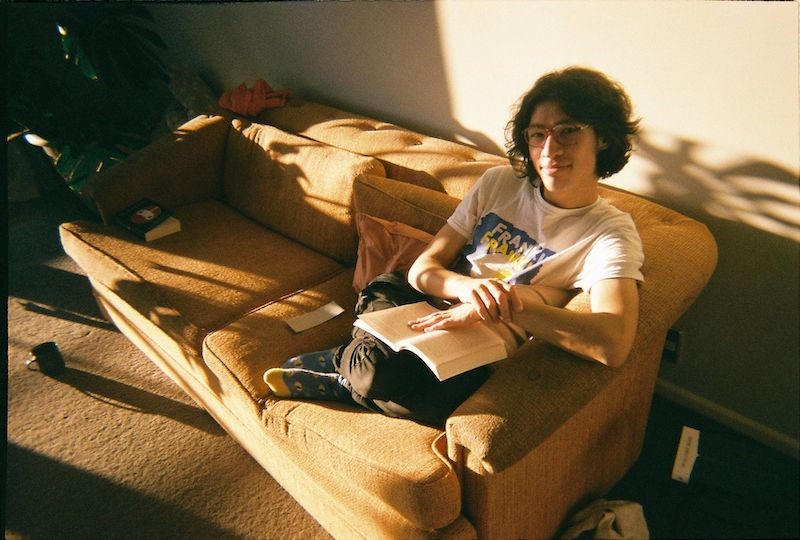 Having shared their sophomore album 'Cosmonaut' at the end of May, Christchurch-based Pickle Darling (real name: Lukas Mayo) has embarked on a country-wide tour which kicked off last weekend in Oamaru, Dunedin, and Invercargill, with the tour dates continuing for the remainder of this month throughout both the South and North Islands.
"Cosmonaut serves as a reminder that the staying power of a pop record isn't found in big-name collaborations or trends; it's the ability to put the listener in a specific headspace—and to make them want to come back and visit that place again and again," Bandcamp shared after selecting the album as their Album Of The Day upon the album's release.
We caught up with Pickle Darling ahead of the tour beginning to discuss the live shows...
COUP DE MAIN: You're heading out on your own tour very soon with a full band. What can you tell me about putting together your live show?
PICKLE DARLING: I've had different versions of the band, but the current version we formed when The Beths asked us to go on tour with them late last year. I didn't have a band, so I was going to say no, and then I talked to Serena [Close] - who's Mousey - she was thinking of joining the band at that stage. She was like, "Let's do it! I know we've only got a month to get a live set together, but we can do it." So that's kind of how it started. And it's just three of us. It's Serena and Cameron Finlay. Cameron Finlay studied drums in jazz school, but in my band, he plays literally every instrument apart from the drums - he plays keyboards, he uses the drum machine thing, a lot of tambourines, shakers, and guitar. At one stage, he played trumpet, actually, a few years ago. Serena plays the synthesizer, and glockenspiel, at the same time, it's really crazy to watch. So the live show will be three people, all doing a lot of things at the same time, and looking really stressed out on-stage. I'm doing the least amount in the band, so I'm having a good time. I'll be trying to remember the words.
CDM: When you are working on music, do you think about how it will be performed live? Or do you think it's better to not put restrictions on yourself?
PICKLE DARLING: Definitely not. I make music pretty self-indulgently. I'm just doing whatever I want production-wise. I genuinely don't think of the live show at all. So when it comes to arranging the live set, it's pretty hard, and a lot of problem-solving, where we've got to figure out the core elements of the song to spread out across these three musicians. So you've got to choose what to sacrifice at different stages of the song, or when to switch instruments to still keep all that in there. It's pretty fun problem-solving actually, it's like a puzzle, I think, arranging it into a live set.
CDM: Is there a show that you're most excited for / why? It's your first official headline tour! I personally love that you're playing a venue called Spaceship in Hastings.
PICKLE DARLING: Yeah, that that was a late addition. I think because the previous place double-booked us or something, so we booked there. I'm excited to play. I really liked playing Invercargill with The Beths. I think that was my favourite show of that whole South Island tour, because it was kind of smaller, everyone was really stoked to be there. Everyone was really nice. I'm really excited for Palmerston North, I just have no idea what it's like. I haven't gone anywhere, I've literally been nowhere. So I'm going to a lot of these places the first time and I don't even have a mental picture of them.
CDM: Can you tell me about picking the opening acts for each show on the tour?
PICKLE DARLING: I was like, "I'll pick bands that I think are better than me." I think a lot of them I haven't seen live before as well. They all seem like bands that are wholesome and would be a nice vibe.
CDM: I really like Mini, who's doing the Christchurch show!
PICKLE DARLING: Yeah, she's Serena's singing student. So I think this will be her second show. I thought it'd be cool, because I think a while ago, I played a show and Serena opened for me solo ,and for one song she brought her up to sing a song together.
Pickle Darling is in the middle of their Cosmonaut Tour of New Zealand - the full dates are listed below, and tickets are available here.
July 1 - Oamaru - Grainstore Gallery w/ Mousey (solo)
July 2 - Dunedin - Bark w/Neive Strang
July 3 - Invercargill - Tuatara w/Neive Strang
July 10 - Christchurch - Space Academy w/ mini
July 15 - Auckland - The Wine Cellar w/ Treenurse
July 16 - Tauranga - Jam Factory w/ Mousey (solo)
July 17 - Hamilton - Nivara Lounge w/ Halcyon Birds
July 22 - Wellington - Moon w/Fruit Juice Parade
July 23 - Palmerston North - Snails w/Fruit Juice Parade
July 24 - Hastings - Spaceship w/ Mousey (solo)
July 30 - Nelson - The Boathouse w/ Mousey (solo)
July 31 - Onekaka - The Mussel Inn w/ Mousey (solo)
Load next