Review: Sleater-Kinney & Mermaidens - The Powerstation, February 2016.
Review: Sleater-Kinney & Mermaidens - The Powerstation, February 2016.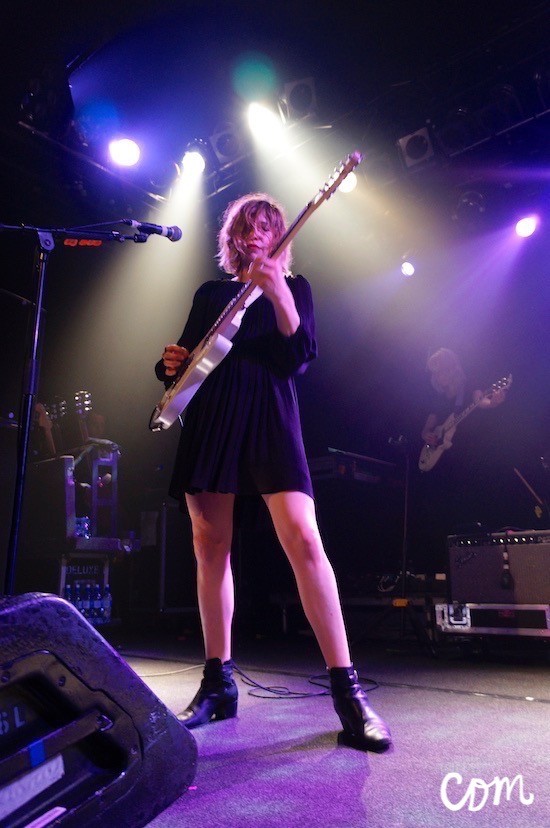 If you've ever had any doubts about a woman's ability to shred, then you should've been at Auckland's Powerstation last night, to witness Sleater-Kinney's return to New Zealand - for the first time since 2002.
Opening for the main even were Mermaidens, a Wellington-based band made up of Lily Paris-West, Gussie Larkins, and Abe Hollingsworth. With their debut album expected for release in 2016, their set impressed the audience - from Gussie's live feedback through her guitar, to Abe's skilful drumming, to Lily's energetic bass playing.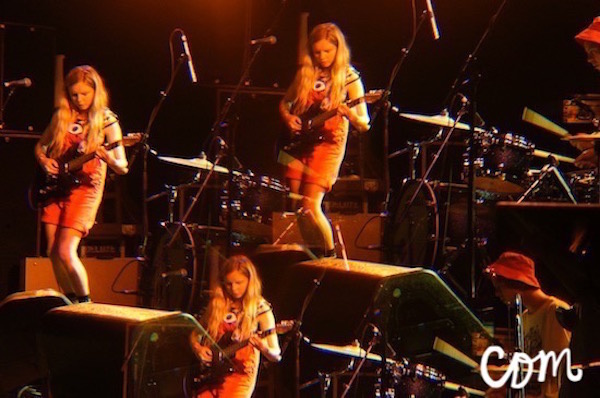 The trio have had a busy week, opening last week in Wellington for Death Cab For Cutie - and they made it clear why they've gotten these support slots, because they are SO good live.
Their talent as musicians shone through above everything else, and they were clearly humbled to be the support act for such a heritage band as Sleater-Kinney - who later gave them a shout-out on stage for performing with them.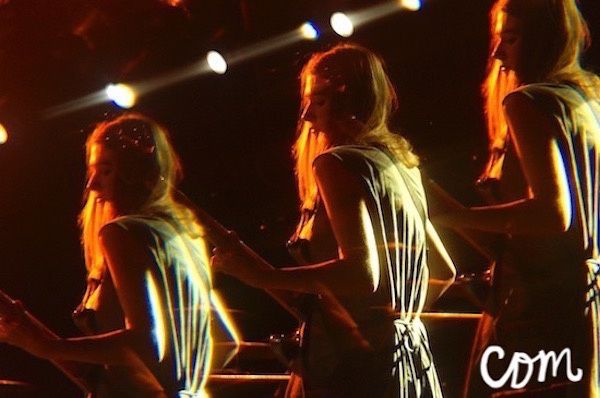 Their similarities to Sleater-Kinney were made clear during their set - with the vocal lines passing between Gussie and Lily, just as Carrie and Corin pass vocal lines between them - however, Mermaidens' darker, grungier sound came through at the same time.
Closing with lead single 'Seed' from their upcoming album, Mermaidens' invigorating set not only got everyone enthused for the night ahead, but presented a first opportunity for many, to see this talented up and coming band live.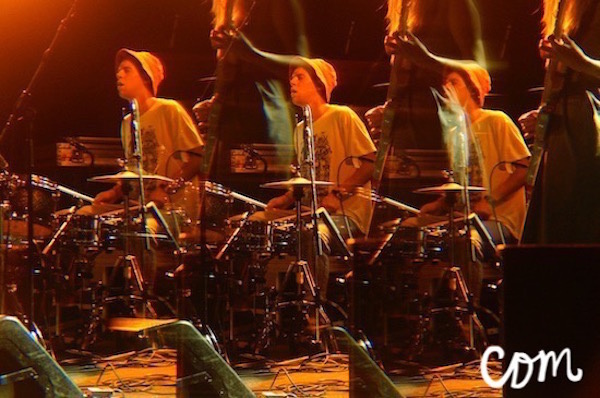 When Corin Tucker, Carrie Brownstein, and Janet Weiss took to the stage and launched into 'Price Tag' - lifted from their 'No Cities To Love' album from last year - the liveliness of the band was evident, and the audience matched their vigour with equal enthusiasm.
Since the release of 'The Woods' back in 2005, the trio had taken a long hiatus, reforming just last year for the release of a new album. Touring a new album can be hard, especially when you have an enormous, much-loved back catalogue, but Sleater-Kinney managed to balance their set-list between old and new, offering something for everyone in the audience.
They went from playing the title-track from their new album, 'No Cities To Love', to 'All Hands on the Bad One', the title-track from their 2000 album. Despite over a decade in between the release of these albums, the band's cohesiveness of such a vast catalogue was impressive.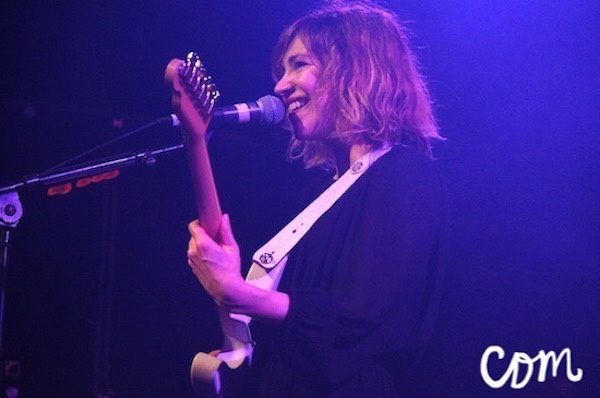 They thanked the crowd for coming out to watch them, acknowledging the last time that they'd played Auckland - all the way back in 2002, at The Kings Arms - and went on to explain their apparent tiredness, saying, "[We're] playing jet-lagged out of our minds, thank you so much." Despite this, the energy throughout their set demanded attention for 90 minutes, and 21 songs - a feat that many bands could pull off.
At the core of this band are the vocal lines that pass back and forth between Corin and Carrie, and this was made even more clear in a live setting. Their chemistry on-stage as they shred next to one another is like nothing else - it has to be seen to be believed - all the while, being driven by the incredible drumming of Janet Weiss. It's no wonder she's often referred to as one of the best rock drummers of all time.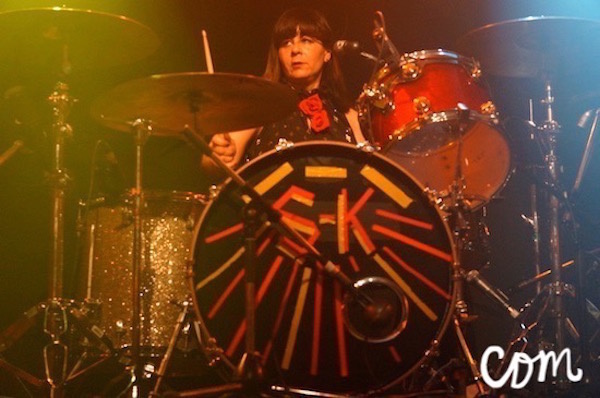 Closing their set with 'Jumpers', from the 2005 album 'The Woods', they had the entire Powerstation jumping in rhythm to the song - in particular, two very enthusiastic patrons in front of us, who didn't stop dancing the entire time (even after the music had stopped).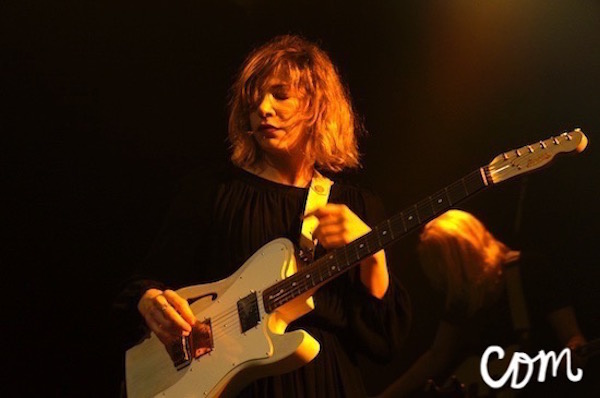 The encore was preceded by ongoing foot-stamping and incredulous screaming from the audience, who were not gonna let Sleater-Kinney leave without coming back to perform a few more songs. The three-song encore was comprised of 'Start Together', the fan-favourite, 'Modern Girl', and 'Dig Me Out' - showing everyone that although they've been in a band since 1994, they still know how to rock like no one else.
Set-list:
Price Tag
Fangless
Oh!
Get Up
Surface Envy
Ironclad
What's Mine Is Yours
One More Hour
Youth Decay
A New Wave
No Cities To Love
All Hands on the Bad One
One Beat
Turn It On
Bury Our Friends
Words and Guitar
The Fox
Jumpers
Encore:
Start Together
Modern Girl
Dig Me Out
Load next