Timothée Chalamet on the cover of GQ, March 2018.
Timothée Chalamet on the cover of GQ, March 2018.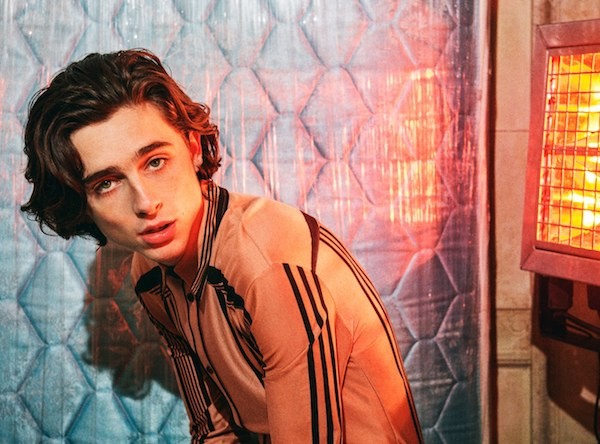 Everyone's current Internet-boyfriend Timothée Chalamet has landed the cover of the March 2018 issue of GQ magazine, sporting a Saint Laurent leather jacket and a JW Anderson heart-print shirt.
On his recent good fortune: "Fuck yeah, while it's going on, I'm going to enjoy every second of this—it sounds cheesy, but I think of myself as an actor third, an artist second, and a fan first. But I have genuine fear of having the inability to replicate this moment again."
On how 'Call Me By Your Name' has made him think differently about his own life: "I found my first copy of the book recently, and I felt happy that the passage that I'd annotated the most was Mr. Perlman's speech at the end. The moment that always resonates with me the most is when Mr. Perlman says, 'Before you know it, your heart is worn out, and as for our bodies, there comes a point when no one looks at it, much less wants to come near it.' And that, I had highlighted and underlined it, and even right now it gives me goose bumps, I don't know why… That idea that if you feel shitty when you're grieving, whether that's over a lost romance, or a lost parent, you're doing it correctly, and you don't need to add the baggage of beating yourself on top of it. That is a human trait to do that, but it is also of the self-loathing generation, my generation—and that's something I've really tried to carry in my life. When I do scenes, I like to memorize the other person's dialogue as well, just so I can know the rhythm. But that speech was voluminous, and I decided not to memorize it. I thought: 'Timmy, just hear it, just hear it.' And so we started on him, but the stuff they used of me in the scene in the movie, it always moves me to watch it, seeing him first and then the interaction with me, because I remember listening to it, and thinking: Try to stay in character. Be Elio, be Elio, be Elio. But in some part of my brain, also thinking: Timmy, fucking hear this. Hear this man. Hear these words. Bring this into your life. And I hope this doesn't come across as cheesy, as I'm having the thought for the first time with you, but it can be really easy and cynically attractive to be jaded about being a young actor, or 'rising success,' and the trials and tribulations that come with it, but that is a moment where, like…art helps. That is a moment where art helped me, and has changed me for the better."
Read the full interview here.
Load next