Coup De Main presents: The Internet - August 2016 New Zealand tour.
Coup De Main presents: The Internet - August 2016 New Zealand tour.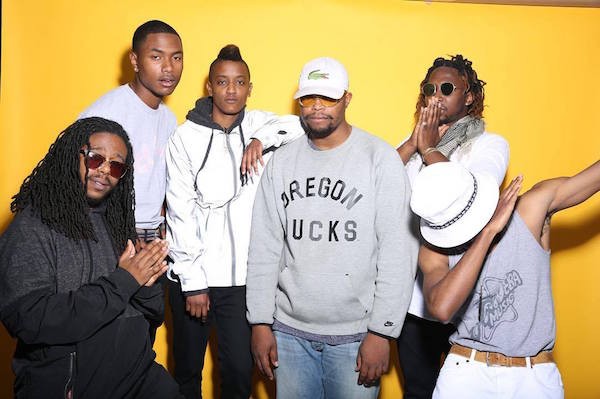 After an impressive introductory performance at Laneway Festival earlier this year, Coup De Main is delighted to announce that The Internet will be returning for two dates in Auckland and Wellington - on August 2nd and August 4th!
Tickets go on sale from Wednesday, May 25th.
"The LA-based soul collective began as two people - Syd Tha Kyd and producer/synth player Matt Martians. An offshoot of Odd Future, THE INTERNET blends smooth electronic urban soul, with chugging drums and slinking bass lines overlaid by front-woman Syd's honeyed vocals. Syd taught herself how to record, engineer, and produce at age 15.  She also sings, imbuing every song with a sultry, mellifluous, quiet power.  Matt produces and plays synths. Like all post-modern relationships, the duo initially met on Myspace in 2008, only to meet in-person three years later.
THE INTERNET started their own band in 2011.  Syd had been writing music since she was small; she put this on hold to become OF's DJ and producer, and picked her songs back up in 2011 to make her first full-length album with Matt.  THE INTERNET have now released three albums – 2011's Purple Naked Ladies, 2012's Feel Good and 2015's Ego Death which they are currently touring.
When they play live, THE INTERNET is a full band – swelling to a six-person outfit with Patrick Paige II, Christopher Allan Smith, Jameel Bruner and Steve Lacy joining Syd and Matt.  They began playing together to tour behind Feel Good, and since then the band members all contributed their talents to THE INTERNET's latest album, the Grammy nominated Ego Death – their most evolved album to date, featuring guest appearances from the likes of Janelle Monae, Tyler, the Creator, and Vic Mensa.
Recorded in the band's hometown of Los Angeles, Ego Death is a heady mix of confessions and come-ons, shiny Rhodes keyboard glimmers, chugging drums, slinking bass lines, and Syd's honeyed voice anchoring the mix.  It's a record that connects the dots between Digable Planets, Erykah Badu's Baduizm, the warm, inviting breezes of the West Coast, and the stories that only happen very late at night or very early in the morning, all played by musicians who are carrying the soul torch for the new generation.
Do not miss your chance to see THE INTERNET perform their beautifully crafted and genre-defying funk-tinted R&B soul - these shows will sell fast!"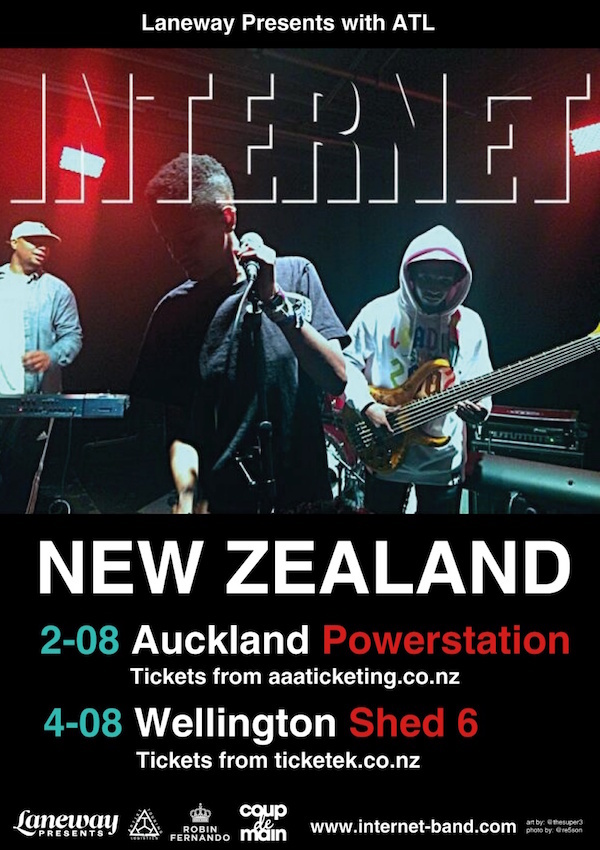 THE INTERNET NEW ZEALAND SHOW DATES:
TUESDAY 2 AUGUST - POWERSTATION - AUCKLAND
www.aaaticketing.co.nz
THURSDAY 4 AUGUST - SHED 6 - WELLINGTON
www.ticketek.co.nz
TICKETS GO ON SALE WEDNESDAY 25 MAY.
Watch The Internet perform live below...
Load next