Vince Staples announces NZ tour for December 2016.
Vince Staples announces NZ tour for December 2016.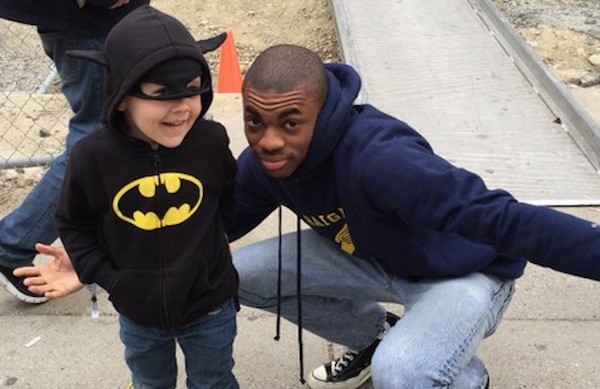 One of our favourite humans in the whole wide world, Vince Staples, has announced that he will be returning to New Zealand this December to play two shows - Wellington on December 6th and Auckland on December 7th!
Tickets go on sale to the general public from 9am this Thursday, October 6th - with a Laneway members pre-sale from 9am on Wednesday, October 5th.
"2016 has been hectic for Vince Staples. The streetwise social commentator has given showstopping performances across the festival circuit, headlined his own US tour and found time to release his new EP, Prima Donna. It was only back in February that Vince Staples was here for a Laneway Festival set that was dubbed "ground-rattling and triumphant" by The Wireless. We're excited to announce that he's heading back to New Zealand this December for shows in Wellington and Auckland.
Vince Staples, whose astonishing double-CD debut Summertime '06 was one of the most critically acclaimed albums of 2015, recently returned with Prima Donna, his long awaited new 6-song EP. Prima Donna solely features production from No I.D., DJ Dahi and singer, songwriter James Blake.
Accompanying the Prima Donna release was a self-titled short film, conceived by Vince Staples and directed by award-winning director Nabil [Elderkin], who is well known for his work with Kanye West ("Welcome to Heartbreak" and "Paranoid"), Frank Ocean ("Swim Good"), Bruno Mars ("Grenade"), and FKA Twigs ("Two Weeks").
Vince Staples was the subject of one FADER's coveted 2016 Summer Music cover stories: "[He] has used his songs to indict police brutality, civic apathy, gentrification, racial profiling, and the failed educational system," wrote Jeff Weiss.  "Instead of chasing radio anthems or major co-signs, he made an artful double-album with a cover inspired by Ian Curtis, mournful dirges ('Summertime') that could be Sparklehorse songs, and haunting videos ('Señorita') that attack the safari mentality that outsiders often apply to hip-hop."
 
"At its best," the New York Times wrote about Vince Staples in 2015, "his new major label debut album, Summertime '06 is exceptional, a modern gangster rap classic full of clear-eyed detail and tart social commentary."  Just a few months later, the Times returned with the ultimate accolade for Summertime '06 when its closing track "'06" was singled out as one of 25 Songs That Tell Us Where Music Is Going in the Sunday magazine's historic "one-time spectacular" issue:
 
Vince has worked with dozens of today's hottest artists, most recently; he has been featured on tracks with ScHoolboy Q ("Ride Out"), Flume ("Smoke & Retribution"), Childish Gambino ("Waiting For My Moment") and Clams Casino ("All Nite").
The new EP Prima Donna is available now."
Load next