Interview: 2019 Must-Know - Christian Leave
Interview: 2019 Must-Know - Christian Leave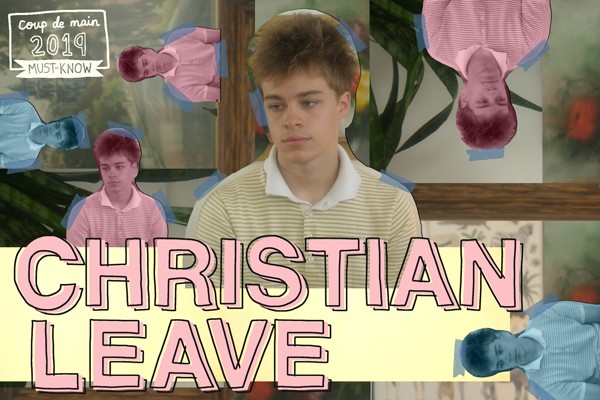 "I can tell it's you / Falling fast for you / Brain is set on you / And what this is gonna turn into," sings Christian Leave on 'You', the opening-track on his 'Trilogy' EP released at the end of last year, and a candid insight into this self-declared "kid with dreams who wants to connect with the rest of the world" who pens and produces heartfelt emotional snapshots into song-form.
Hailing from rural Texas, the former Vine star escaped the boredom of his small town by making short music and comedy videos, with his debut 'Hope' EP released in 2016 attracting over 50 million streams.
Now 18 and signed to LA-based label Godmode (the home of Shamir and Yaeji), Leave's diligent DIY ethic (he wrote, recorded and produced the 'Trilogy' EP entirely in his bedroom) finds him with over 1.5 million monthly listeners on Spotify - not bad for a kid that just wants to connect with the world, huh?
MUST-LISTEN: 'Smaller', 'Never', 'Love Unfinished', 'Understand'.
YOU WILL LIKE, IF YOU LIKE: Rex Orange County, Roy Blair, Declan McKenna, Wallows, Billie Eilish, Ruel, Harry Styles, LANY... and cozy sweaters.
COUP DE MAIN: 'Smaller' is a really heartfelt song - what was running through your mind when you were writing the lyrics?
CHRISTIAN LEAVE: I was extremely vulnerable and alone and I felt very inadequate.
CDM: I love the line in 'Understand' when you sing, "You're afraid of the things in your life that you might just lose." Why do you think that we, as humans, are so afraid of loss?
CHRISTIAN: We hate change and we hate feeling like we're not worth things sticking around.
CDM: I love all the music videos that you've released alongside the songs on the EP! Is it important for you to have visual accompaniments to your music?
CHRISTIAN: Yes, as long as the vision's there and communicates the intention of the song rather than outshine what the song is.
CDM: What song on the 'Trilogy' EP took the longest to complete?
CHRISTIAN: They all took the same amount of time roughly, I wrote them all in the same day.
CDM: Have you been writing much music since the release of the EP?
CHRISTIAN: Yes, I've been trying. I've been in a little bit of a creative rut, but I feel myself coming out of it, so hopefully I'll make something I love soon.
CDM: Do you have any live Christian Leave shows planned?
CHRISTIAN: Yes. But shhhhh.
CDM: What else do you have planned for 2019?
CHRISTIAN: MORE MUSIC.
CDM: How does your songwriting process work?
CHRISTIAN: I write all of my thoughts, emotions, and current life situations down, and then try my best to pull those things into a song.
CDM: Do you write your lyrics specifically for the songs, or do you write poems or prose and then evolve them into song-form?
CHRISTIAN: It depends, all squares can be rectangles, but not all rectangles can be squares.
CDM: Lyrically, what's your favourite song that you've written?
CHRISTIAN: 'Never'.
CDM: What do you hope for people to take away from listening to your music?
CHRISTIAN: Some sort of comfort.
CDM: If C.H.R.I.S.T.I.A.N. was an acronym, what would each letter stand for?
CHRISTIAN:
Coolest
Hero
Rising
In
Slowly
To
Imposible
Acting
Nepotism.
CDM: You're one of our 'must-know' artist picks for 2019… who are yours?
CHRISTIAN: This band Greer. They're great people and amazing athletes.
CDM: If you could steal one thing without consequence what would it be?
CHRISTIAN: Diamonds.
CDM: If you were a country, what would be your national anthem?
CHRISTIAN: 'Scatman' by Scatman John.
Watch the music video for 'Never' below...
Load next