Interview: 2018 Must-Know - CYN
Interview: 2018 Must-Know - CYN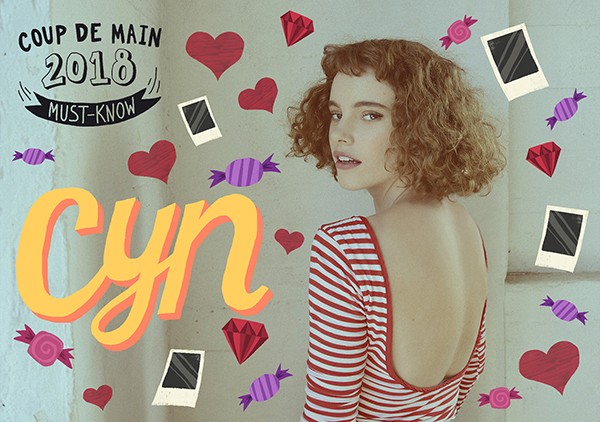 Since winning our hearts late last year with her undeniably catchy debut single 'Together', CYN (aka Cynthia Nabozny) has continued to thrill us with her follow-up, 'Only With You', making us even more eager for her upcoming debut EP.
Having signed to Katy Perry's own UnSub Records back in 2016 (after performing songs on piano to her in Perry's home), CYN has been honing her songwriting craft for a long time - and having recently relocated to Los Angeles to focus on music, there's no doubt in our mind that 2018 is going to be a big year for CYN.
MUST-LISTEN: 'Only With You', 'Together'.
YOU WILL LIKE, IF YOU LIKE: Elohim, Purity Ring, Dua Lipa, Ryn Weaver, Tove Lo, Years & Years, Tove Styrke... and strawberry-flavoured milk.
COUP DE MAIN: What do you have planned for 2018 so far?
CYN: For 2018, I plan to release a lot of music, focus on my live show, and learn how to play the ukulele!!
CDM: We love your second single, 'Only With You', it's such a wholeheartedly romantic sentiment - what was it like transforming that song from the John Mayer vibe that it started out as, to what it is now?
CYN: Thank you! It was somewhat like waking up in the morning and discovering you were actually a whole other person!!
CDM: Did you enjoy channeling an unhinged, psycho-esque character for the music video for 'Only With You'? It kind of felt like performance art for you, acting in that way!
CYN: At first, I was really scared to act that character out...! But once it was over, I felt so empowered, brave, and ready for my next outrageous act.
CDM: When did you sign with UnSub Records, and how did Katy Perry find you?
CYN: I signed with UnSub in March of 2016. I've been writing music since I was a toddler. I wouldn't call them all formal songs, but definitely just like making up melodies and little jingles, my whole life. Then finally when I was able to record myself and start connecting with producers through SoundCloud, I was able to network and use the Internet. And finally, I met someone who was connected to Katy, and he sent over my music. In September 2015, Katy invited me to her house, and I was like freaking out, of course. But when I got there and I played those songs on the piano, it was no different than playing the songs on my own piano for my grandparents - like doing a birthday party or something. You expect these kinds of meetings to be totally different, but really, you're the same person when you're in front of these people, or when you're around these people at parties, and when you're going to meetings with them and stuff. It's just important to know that-- I thought I was going to like level up or something, but you don't, you're just still the same person. And they're just like you too! There's no reason to be intimidated and you just kind of do what you do.
CDM: What's the best piece of advice that Katy has ever given you?
CYN: In a meeting once, I was playing her some music and she said, "Just keep in mind like…" I've met some friends here in L.A. who are Hollywood socialites and they're all really great people, I'm lucky I'm surrounded by such really awesome people, but Hollywood in a way sometimes it doesn't feel like real life. And so Katy told me, "Just keep in mind, think about your friends in Michigan, think about your friends in Chicago, you want to write songs for people all over the country, and not just the people that you're meeting in Hollywood." So that was something important that she told me, "Just keep in mind the girls in their room with their hairbrushes singing into them."
CDM: That's so cool. L.A. can feel so detached from the rest of the world.
CYN: Yeah, totally. My friendbase is really diverse here, but sometimes you just have to pay attention to the rest of the world. It's important that my music speaks for a good amount of people and not just a small amount.
CDM: Well you already have fan-sites from Brazil and all over the world, so it's clearly doing the right thing.
CYN: Right? Isn't that so funny? Yeah, which kinda makes me a little nervous.
CDM: Do you write your lyrics specifically for the songs, or do you write poems or prose and then evolve them into song-form?
CYN: Sometimes my ideas will definitely come from poems or prose, or I'll sing out loud in the shower and then come into the studio with it. But other times, I'll hear a beat and kind of know what words or what the song should be about. But it's different every time, the technique. Sometimes when I'm writing in my journal, I'll say something like, 'Huh that sounds like the topline of a song,' and I'll bring it in.
CDM: What do you hope people to take away from listening to your music?
CYN: Well, I certainly hope they're in a better place after hearing some songs. But for me, music is like therapy in a way. If someone is upset about something and they hear a song of mine and they feel better, that's good. If they have a feeling that they can't make sense of - maybe they don't know if they should fall in love with someone and then they hear one of my songs and they're like, 'Man that would be awesome! Maybe I should just go for it!' I just hope to provide people with more understanding. Maybe if I'm so lucky, you know?
CDM: You're one of our 'must-know' artist picks for 2018… who are yours?
CYN: Chelsea Jade, Boyboy, and Mothica!
Watch the 'Only With You' music video below…
Load next