Interview: 2018 Must-Know - Nightly
Interview: 2018 Must-Know - Nightly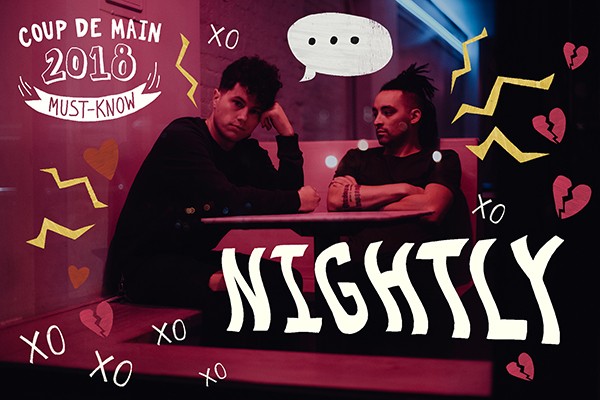 Comprised of cousins Jonathan Capeci and Joey Beretta, Nightly have been winning hearts since their 'Honest' EP back in 2016 - and with new music on the way, they're set to continue to do so.
Having spent much of 2017 touring with The Struts and working on new music, 2018 is what the band's Jonathan Capeci says, "Feels like the next chapter of Nightly to me." We're in.
MUST-LISTEN: 'XO', 'No Vacancy'.
YOU WILL LIKE, IF YOU LIKE: The 1975, LANY, Lauv, Coin, Fickle Friends, Walk The Moon, The Maine, Two Door Cinema Club... and proclaiming your feelings via a risky text message.
COUP DE MAIN: 2016 saw you release the 'Honest' EP and 2017 saw you continue that momentum through a lot of touring - what do you have in store for 2018 so far?
NIGHTLY: We have a lot of new music that we've worked on over the last year, some of which we've played live, and a bunch that people haven't heard yet. So we're looking forward to putting more music out in 2018.
CDM: Will your new music be in a similar vein to the 'Honest' EP? Has everything still been written in bedrooms and apartments?
NIGHTLY: It feels like the next chapter of Nightly to me. We haven't abandoned anything about the first EP, but we took the things we loved most about those first songs and dug deeper on these new ones. One thing we really wanted to do was capture the feeling of what it's like when we play live. So we did about half or more of the songs in a bedroom still, but were able to record drums in a studio for a few of them which has added a lot.
CDM: The entire EP feels so genuine and upfront about the important of communication, and honesty. Are these qualities important to the Nightly songwriting process?
NIGHTLY: 100% every song we write comes from a real emotion or place. It feels important to be genuine in that way, otherwise it's really not worth singing for me. We've been affected by all our favourite bands growing up because of how connected we feel/felt to the emotions in the songs, and we hold that standard of honesty for every song we release.
CDM: Another distinctive part of Nightly is your imagery (from your music videos to your visual aesthetic) - what's the process behind planning and executing this image?
NIGHTLY: We want each outlet we have to tell a story, whether it's a picture, video, etc. The songs are all based on real things, so really we just tried to recreate the stories or emotions of the songs and bring them to life. We also surrounded ourselves with people who understand our vision and know what we're looking for in a photograph or a video. All that stuff seems fun to me, thinking about each post like a mini cinematic version of the songs.
CDM: How does your songwriting process work?
NIGHTLY: It happens a couple different ways. Joey is an amazing guitarist and comes up with progressions or parts that are super inspiring to me, so I like to write melodies and lyrics over the top of what he's playing. We bring each other ideas a lot, and we're always writing, whether it's in a hotel room, venue, or at home. I make notes and voice memos in my phone constantly and turn them into songs. Once we have an idea, we will flesh it out together.
CDM: Lyrically, what's your favourite song that you've written?
NIGHTLY: There is a song we haven't released yet that is my favourite, but of the songs we've released, probably 'Honest' or 'XO'. Both came from such a real place, and were written in like 30 mins. It was like, the first thing I sang each time ended up being the final line in the song, and I think that's just because it was something I really had to get out.
CDM: What do you think is the difference between a good song and a great song?
NIGHTLY: Hard to say, but I think great songs stand the test of time and really make you feel something.
CDM: What do you hope for people to take away from listening to your music?
NIGHTLY: We want it to be a soundtrack for people. Something you put on in your car. That's kinda what we picture when we release songs.
CDM: If N.I.G.H.T.L.Y. were an acronym, what would each letter stand for?
NIGHTLY: Well, we actually came up with Nightly by thinking of night, love you, and shortening it to nightly. Does that count?
CDM: What's on your bucket-list?
NIGHTLY: Tour outside the U.S., headline Madison Square Garden, meet Bono, and about a million more things.
CDM: You're one of our Must-Know artist picks for 2018... who are yours?
NIGHTLY: The Japanese House, Tove Styrke, MUNA.
Nightly's 'Honest' EP is out now - watch the 'Talk To Me' music video below…
Load next