Interview: 2021 Must-Know - Renforshort
Interview: 2021 Must-Know - Renforshort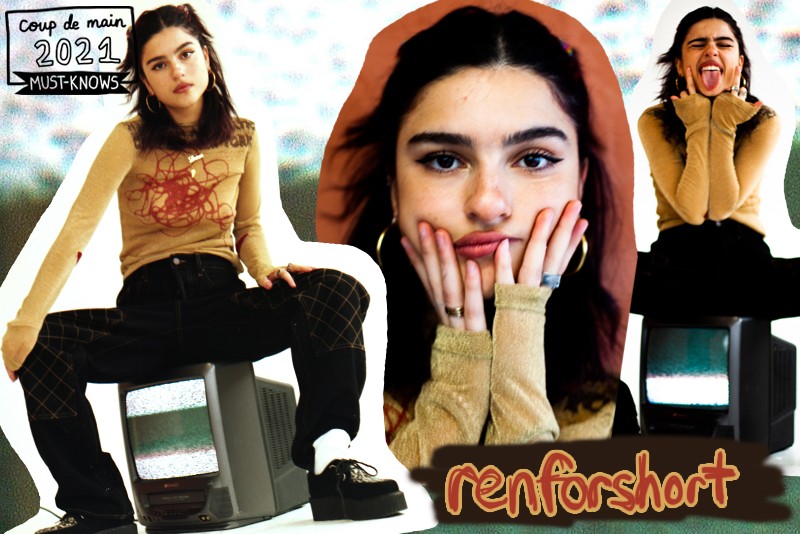 "I don't wanna live my life on the internet / I already smoke electronic cigarettes / Been inside the last six months and I'm sick of it / I need something real," Renforshort reflects on her new song 'virtual reality', an ode to the addiction of social media and the feelings of isolation and loneliness that go alongside it. It follows her 'teenage angst' EP from last year, which saw Renforshort's songwriting develop through songs like 'i drive me mad' - an honest reflection on mental health.
2021 will see Renforshort share a brand new EP, and she shares from the writing process that: "I wrote a bunch of songs that are pretty different and picked the ones I liked the best because what I realised is that an EP to me is really just a reflection of yourself."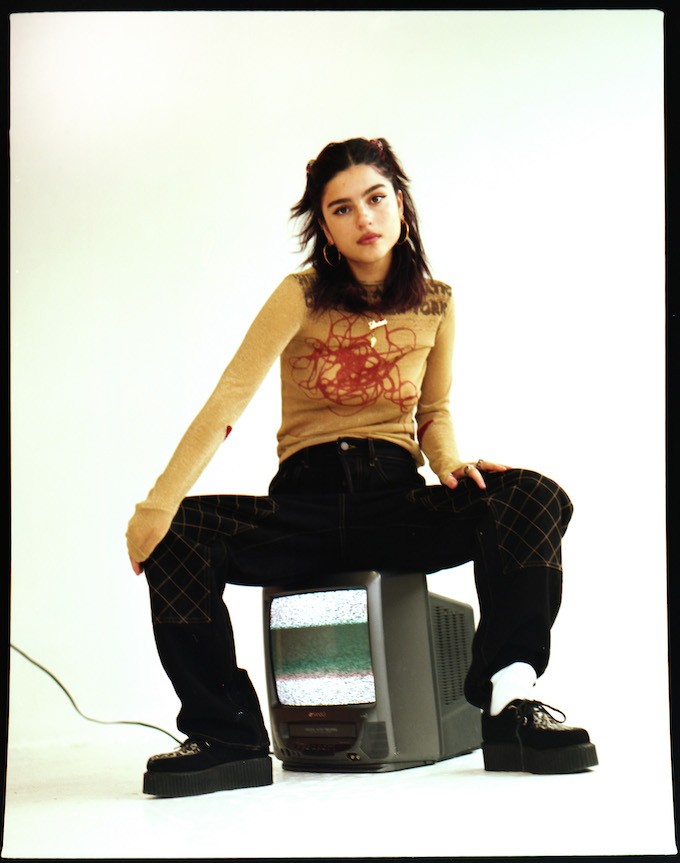 MUST-LISTEN: 'virtual reality', 'nostalgic (luvsick)', 'i drive me mad'.
YOU WILL LIKE, IF YOU LIKE: Beabadoobee, Charli XCX, Silver Sphere, King Princess, Pale Waves, The Aces... and rewatching 'Scott Pilgrim vs. the World' for the ninth time.
COUP DE MAIN: In your new single 'Virtual Reality' you relatably sing, "Because I wake up / check my phone before I even get to take a breath and sometimes I wonder if I need a break from it, before I break from it." Have you changed your relationship to your phone / the internet? Why do you think it can have such a powerful effect on people's mental health?
RENFORSHORT: I think there are many reasons why your cell phone can have such a big effect on your mental health - not only is there this constant need to be something that you're not, to live up to some sort of expectation that you assume people have on the Internet, but there's also the need to constantly put your life on display and have people comment on what you do. I try to limit my time on social media while still engaging with my fans and audience, but there are times where it just becomes too much and I find myself deleting all my social apps at least for a day or a couple hours to get my mind off it. I've also been trying to make it less of a routine to wake up and instantly check my phone but it's practically impossible because that's my life at this point, but those are some things that I've done to kind of try and limit it.
CDM: With everything that happened in 2020, it felt like people went one of two ways - completely addicted, where people watched the chaos unfold in an online space, or completely withdrawn and not wanting to see anything. Where do you see the future of our relationship with technology and the internet going?
RENFORSHORT: Honestly, platforms are just going to keep growing, technology is just going to advance, and that's basically been the formula for years. I think it's our responsibility to kind of try and restrict those things which is something that should've been done a long time ago. We should have certain laws and rules enforced regarding social media. I think we've seen enough damage from social media, that big apps have restricted certain content and added warnings and all that stuff, but I just don't think it's enough. I hope we can find ways to make social media a healthier space for everyone and we should focus a lot more on mental health, especially now when all we read seems to be bad news.
CDM: Your song 'fuck, i luv my friends' feels even more important now ("Been so long and I can't wait to see them all again"), with most people having gone so long without seeing their friends. Do you have any tips for people wanting to stay connected with their loved ones, when they might be feeling particularly isolated?
RENFORSHORT: I think the obvious route is FaceTime, but what I've been doing with my friends a lot is FaceTiming and watching a movie together - you don't really talk, it's just nice to watch a movie with someone haha. Another thing I've done with a friend is we would pick three books and trade them with each other and then after we finished reading the book we just talk about them - kind of like a little book club, that was really fun. But I definitely miss hugging my friends and  having real movie nights, but we've just got to wait a little bit longer for that!
CDM: How did you find the creative process for your upcoming EP compared to the 'teenage angst' EP?
RENFORSHORT: I went into 'teenage angst' with the mentality that this was going to be a cohesive body of work because that's what a project is, whereas for my upcoming EP I wrote a bunch of songs that are pretty different and picked the ones I liked the best because what I realised is that an EP to me is really just a reflection of yourself and that's either cohesive or not cohesive at all, and I don't wanna have to assign my work to one specific genre or topic. I also just wanted the music to feel very personal and tell my story!
CDM: How does your songwriting process work?
RENFORSHORT: I have a pretty straightforward process I think. I go into a writing room, build a track with a producer and think about how I feel in the moment and what emotion is the most amplified so I can draw from that and make art from it. I like to have a little therapy session with whoever I'm in the room with, and that helps everyone really get in touch with their feelings and translate that into words and make it sound amazing!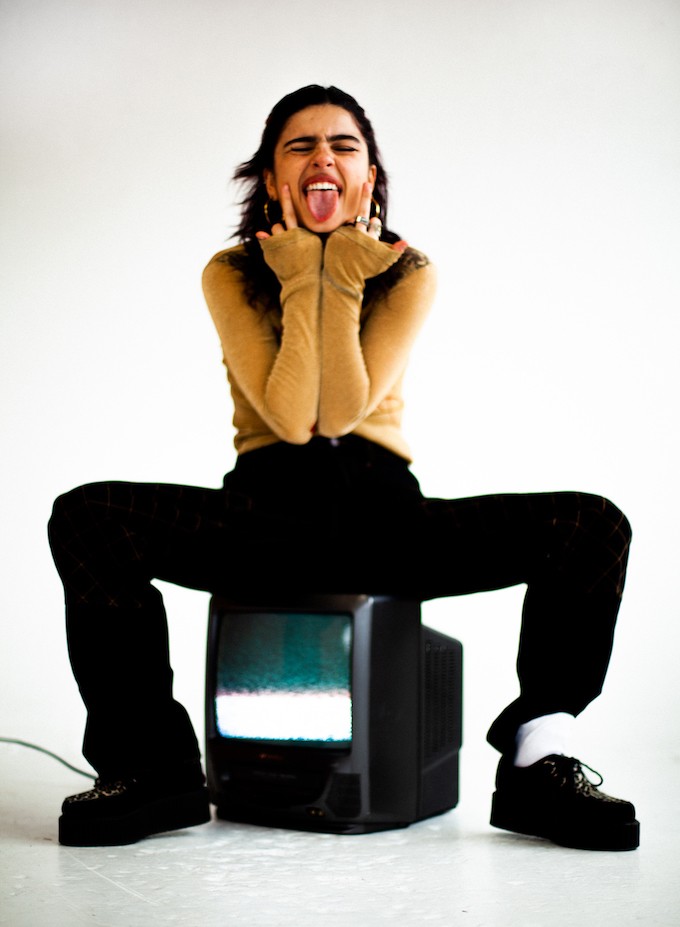 CDM: Do you write your lyrics specifically for the songs, or do you write poems or prose and then evolve them into song-form?
RENFORSHORT: It really depends. Sometimes I'll come in with some insane lines or phrases or even songs and put that on the table and say this is what we're doing. Sometimes that doesn't work, I've brought in some crazy ideas, but sometimes we all just say fuck it and write a song about Hugh Jackman - it really just depends. But I definitely draw a lot of inspiration from art, movies, television, and poetry, if I see something beautiful or feel something special from it.
CDM: Lyrically, what's your favourite song that you've written?
RENFORSHORT: Of songs that are out, I'd say lyrically my favourites are 'i drive me mad', 'tastefully depressed', or 'afterthoughts' because they're just so personal and I feel like so many people can relate to those songs. It's more than just an angsty song about a love interest who was being an asshole, it's about real raw authentic thoughts and emotions, and I think that's a great thing to have as a creator and as a listener.
CDM: What do you think is the difference between a good song and a great song?
RENFORSHORT: When I've been asked this question in the past I've said a good song is a song that is catchy and you can dance to, but a great song makes you feel something deeper. I still agree with that. That's why lyrics are so important to me and making something that's so different than what everyone else is doing is so important. Anyone can make a good song, but to make a great song takes a special person, and it'll take a couple flops but I think most people have the potential to make a great song, it's just about how confident in yourself you are.
CDM: What do you hope for people to take away from listening to your music?
RENFORSHORT: What matters to me the most when people listen to my music is how it makes them feel beyond how they feel when they listen to it - but after and how they feel before they go and put it on if that makes any sense. I made music with the intention of putting things out that I knew would help me when I was growing up - I'm only 18 so it's kind of a silly thing to say, but there's so much toxicity especially with social media, and I haven't learned how to deal with that and I think speaking about that shit and speaking about mental health and those certain feelings that a lot of people are scared to bring up is so helpful, and that's what I try to do with my music!
CDM: If R.E.N. were an acronym, what would each letter stand for?
RENFORSHORT: rebellious emotional nobody. I've never thought of that but I think that's kind of funny.
CDM: What's on your bucket-list?
RENFORSHORT: Performing at a festival, skydiving, have a song on Billboard, have a good time, and do what I wanna do when I want to do it I guess haha.
CDM: You're one of our 'must-know' artist picks for 2021... who are yours?
RENFORSHORT: My must-know artists for 2021 are Briston Maroney (he played me his album and it's so GOOD), Ryan Woods, 347aidan, Glaive, Bakar, carolesdaughter, KennyHoopla, Men I Trust, and Holly Humberstone. All freakin' amazing!
CDM: If you could steal one thing without consequence what would it be?
RENFORSHORT: This is kind of a bad answer but if I could steal one thing without consequence it would be a new Mac, mine has broken like five times this month and it's a big corporation so I don't feel bad. They've also charged me the price of a new computer twice to fix it and now my computer is broken again and I don't want to fix it because fuck them lol. They don't deserve my hard earned money HAHAH. Or a car because mine is old and broken haha.
CDM: If you were a country, what would be your national anthem?
RENFORSHORT: This is such a good question, oh my god! If I was a country my national anthem would for sure without a doubt be 'Common People' by Pulp because it's a perfect song and an amazing message!
Watch Ren's 'nostalgic (luvsick)' music video below...
Load next