Review: Twenty One Pilots, 'Blurryface' Tour - The Powerstation, July 2015.
Review: Twenty One Pilots, 'Blurryface' Tour - The Powerstation, July 2015.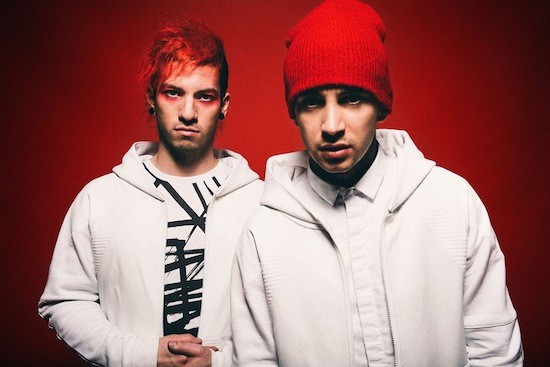 It's very hard to describe Twenty One Pilots in a single sentence. The Ohio duo transcend the typical restraints of musical genres, creating a sound one could best describe as alternative-rock-ska-punk-reggae-experimental-pop - and that's the most concise version I can muster up. The band themselves dub their music 'schizoid pop', which is also a very fitting definition for the multi-faceted sounds across their songs. Regardless of their inability to condense their sound down to one specific genre, their ability to bring together a room full of people is undeniable. Their sold-out show at Auckland's Powerstation was more than a gig - it was a surreal experience; taking a number of different styles, elements and on-stage personas, and mutating them all into the enigma that is Twenty One Pilots.
Anyone familiar with Twenty One Pilots will know the band never shy away from on-stage theatricalities, so it was no surprise when loud, ominous sounds echoed off the walls before a flurry of red lights lit up the room spasmodically. Appearing onstage in his trademark white balaclava and a dark hoodie, frontman Tyler Joseph stood mysteriously atop a black box as he rapped the opening lyrics to 'Heavydirtysoul'. The aura of the first performance seemed almost like a very intense, very fast-paced video game sequence, with the flashing lights interchanging as quickly as Tyler was churning out words, smacking a tambourine in his hands to the beat. Drummer Josh Dun sat with his drum kit on a raised platform, sporting highly-recognisable red eye-makeup as he smashed his way through the first song with enough intensity to shake the room. Chanting to the crowd with the lights off, Tyler had full control of the crowd, instructing them to scream during 'Guns For Hands', to which every person in the room willingly obliged. 
After removing his balaclava and hood, Tyler donned another one of the band's trademark pieces - a red beanie, which was also a common sighting in the crowd. This change also revealed that Tyler's neck and hands were painted black - a common motif from their new album 'Blurryface', which is said to encapsulate the Blurryface character and all his insecurities. While this is a very thoughtful concept, insecure is not a word I would use to describe the onstage presence of both Tyler and Josh, who enthralled the crowed with larger than life movements. While talking between songs was not a common occurrence at this show, actions definitely spoke louder than words - and Twenty One Pilots basically wrote a novel. From Tyler's constant leaping across the stage like a human rubber band and his constant prayer-like motions, to Josh backflipping off the top of the piano, these boys certainly know how to put on a show - be it a concert or a circus act.
It would be a fair call to say that Tyler Joseph had more costume changes during the show than Katy Perry ever would. Donning a floral kimono-style shirt and white sunglasses, Tyler picked up his ukulele for 'We Don't Believe What's On TV', 'The Judge' and 'Lane Boy', which seem like a strange contrast to the very dark, alternative persona onstage earlier - but hey, it's Twenty One Pilots and nothing is ever conventional. Speaking of unconventional, one of Tyler's next moves was to instruct the crowd to crouch down as the song built up. Anyone who has been in the general admission area of a show will know that this is a fairly odd and risky thing to do, but it happened nonetheless, and when everyone jumped back up, it was a beautiful, crazy mosh-pit mess. If you think that's hectic, you should know Tyler also told everyone to find a partner, to "talk it out" and then climb onto each other's shoulders during 'The Run And Go'. The result was a visually-impressive double-decker of fans. The absolute highlight of the night was Tyler climbing up an amplifier, working his way up the stage set, and jumping the barrier of the Powerstation's second floor. Running past a train of overwhelmed fans, he made his way to the centre of the balcony, where he performed to the venue's bottom level from the top of a bar table. With Tyler wearing a black balaclava, the whole scenario seemed like a very strange preacher standing on a soapbox.
In between his borderline robotic dance-moves, his bouncing off the amps and his spontaneous screaming, Tyler still somehow managed to make the room feel unified. It became apparent throughout the night that Twenty One Pilots create more than just music - they create a sense of belonging. Just a quick scan of the crowd revealed fans positively radiating affection and gratefulness towards the band. It's a poignant theme in their music, too. Songs like 'Stressed Out' and 'Migraine' are so emotionally open that you could place yourself in the lyrics without even thinking about it, which fans really connect to. Twenty One Pilots' music exists (to paraphrase the band:) to make people think and help them find joy and purpose in their lives - and judging from their onstage presence, their music, and their fans, Twenty One Pilots have done exactly that. 
SET LIST:
Heavydirtysoul 
Stressed Out 
Guns For Hands 
Migraine 
House Of Gold
We Don't Believe What's On TV 
The Judge 
Lane Boy 
Fairly Local 
Holding On To You No Woman, No Cry (Bob Marley & The Wailers cover)
Ride 
The Run And Go 
Tear In My Heart 
Car Radio 
Encore:
Trees 
Load next