Interview: Sam Trammell on 'Homeland' and other upcoming projects.
Interview: Sam Trammell on 'Homeland' and other upcoming projects.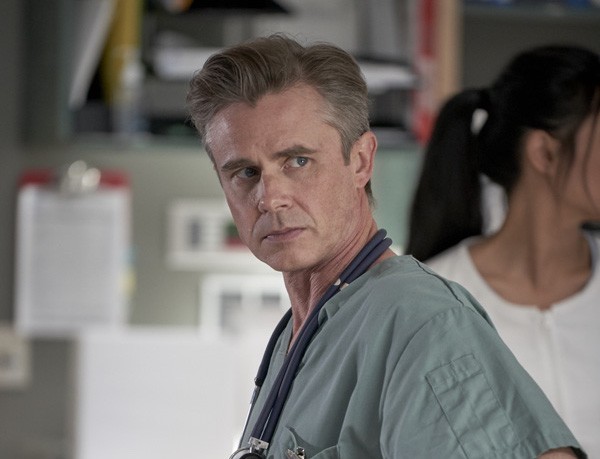 Sam Trammell is juggling nearly too many projects than we have time to discuss in our phone conversation - and he's enthusiastic about each of them, speaking at length about his upcoming role in 'Homeland', as well as other roles in films like 'Breakthrough' and TV shows like 'Reckoning'.
On a rare day off, we caught up with Trammell to talk about each of these projects, as well as his journey from 'True Blood' to now…
Acting is acting, but if you're a great theatre actor, you're not necessarily gonna be really good in front of a camera, and vice versa. It's the same thing, but two very different ways of doing it.
COUP DE MAIN: Hi Sam! Thanks for taking the time to talk to me today. How's your week going?
SAM TRAMMELL: It's been a bit crazy, I just flew in from Morocco from Casablanca - I think you know I'm shooting 'Homeland' there. It's just amazing, it's really one of the very best written shows I've ever worked on, the scripts are just really engaging and smart. They're so good with plot and with character on that show. I'm playing Vice President Hayes, it's kind of a new part for me and it's just really exciting, and it's exciting to be in North Africa, and to be shooting there is really fun and really interesting.
CDM: Had you ever been to Morocco before?
SAM: No, this is my first experience. I'm very lucky that I learnt how to speak French in college. I went to the University of Paris for a year, so that's very helpful because English is a distant third language there.
CDM: How did you feel about joining such an iconic show in its final season?
SAM: It's an honour, it's such an iconic show like you said - it's of such high quality, the writing is top, and the other actors I'm working with are really amazing. Linus Roache, he plays the Chief Of Staff, I work a lot with him and Mandy Patinkin - everybody is really great. I have some really important parts and so it's exciting. It's the last season and they're really going all out this last season. We're all over Morocco, we'll be back in the United States, and there may be another trip to Europe after that, so it's a big season.
CDM: Had you been a fan of the show prior to joining?
SAM: I had definitely been a fan and the show is so good at reinventing itself each season, in a way, and staying current. The executive producers, they all go and meet with these big ex-heads of the CIA and National Security Advisors, and they really are in the current know - they kind of know ahead of time what's gonna be happening in the future, and they're able to mould their seasons around that, and so the show is very current all the time and it's very accurate because they really have incredible access to experts and information about how things work.
CDM: Did you enjoy starring on 'The Order' as an ethics professor, as someone who studied philosophy for a little bit previously?
SAM: Oh yes, that was a great part! I studied French Philosophy in college. I'd never played a professor before, and I love those kinds of questions and that kind of thought, that was a really fun show to work on.
CDM: We're a New Zealand based magazine - how was your experience filming 'Reckoning' down in Australia? Where in Australia were you filming?
SAM: We were filming in and around Sydney and the Northern beaches, all the way up to Palm Beach, and I was just blown away by all those beaches. We were at Avalon Beach, we were at Curl Curl Beach, down at Manly - I was living in Manly, it was just stunningly beautiful. We used that location for our fictional Northern California town where the show takes place and I just had an extraordinary experience down there. The topography is really made for pedestrians, there are all kinds of paths you can walk along the coast and the beaches - and probably New Zealand is too; it's a real outdoor culture. People are just on the beach, in the water, riding bikes, hang-gliding, para-gliding - anything you can do!
CDM: I know you're an avid surfer, did you get a chance to surf in any of those beaches?
SAM: Oh yeah! For sure. Like, every week. I had a board, I was right there on the beach. I surfed with one of the producers at Playmaker. I got a lot of good exercise - I'd go for a surf and then I'd jog around where I was. Sydney is a very inspiring, outdoor place, it makes you want to get out and be active.
CDM: It was cool to see your musical character come through in your appearance on 'This Is Us' - how did you find expanding your creative role to a musical one?
SAM: Well, I started out in music, I was playing in rock bands since I was 13, so I was doing that way before I was acting, and I play the piano. I've never sung, and it was a real challenge to sing with Mandy Moore. We went into the studio and we both sang the whole song, but at different pitches so we were harmonising. So we recorded it first before we actually shot the scene and I was watching Mandy Moore sing and then I had to go and sing the same song, just at a different pitch. It was pretty intimidating, but she was very nice and supportive and it was a great experience to do that.
CDM: When you're looking at scripts, is there something in particular that you look for / something that catches your eye and makes you want to explore the role further?
SAM: Everything is different, there's no one thing that I want to play, it just depends on the writing. That was one of the things about 'Reckoning' where we shot in Australia, that is one of the best parts I've ever gotten to do. It's so complex and so deep and has so many layers. I play a guidance counsellor at a school who has his parents in the mix in the story, and he has a son who's come to live with him whom he didn't raise, and he has all these secrets and I was able to go so deep with it. It really became an important part and an important project for me.
CDM: It must be cool being able to play a character with so much depth that you get to explore, especially in a show throughout ten episodes in a season.
SAM: Yeah, and the writing keeps going deeper and deeper as the episodes go on. It's great to have the time to elaborate and to continue to express different aspects of a personality in different relationships. So, that's the great things about these ten episode series - more so than a movie, you get a little more time to be in the character.
CDM: Are there any types of acting roles you haven't played before, that you would want to do?
SAM: Well, the 'Homeland' experience has made me really enjoy being a politician actually. <laughs> When you're doing politics, there's so much strategy that goes into what a character is trying to do in a certain situation with certain groups of people. There are ten different things going on in someone's head when they're playing a politician. So I actually I'm kind of into politics right now.
CDM: Maybe you can play a president next time.
SAM: <laughs> Yeah, exactly! It's fun to have power.
CDM: Having played your character Sam on 'True Blood' for seven seasons, what's it been like since departing and having so many more varied and different roles?
SAM: With 'True Blood' we were so fortunate. It was really one of the last sort of 'watercooler' shows, it just doesn't work that way anymore. 'Game Of Thrones' is one, everybody tunes in on Sunday to see 'Game Of Thrones', but the way the business is going with streaming, people are usually able to access all the episodes at once, and they can binge it. But 'True Blood' was sort of at the tail-end, Amazon wasn't even around when we started, and Netflix was kind of new. It was really amazing, it was just a great experience and I loved playing that part. It's really been a great platform to move on and do other different things, and I've gotten to do a lot of great characters. Even just this past year, playing the doctor in 'Breakthrough' which is out now, and a philosophy professor. I actually had a really great part in this Helen Hunt horror movie, 'I See You', that I haven't even really talked about that much because there have been other things, but that was a really fun part. I've just been very busy this last year, but 'True Blood' was just great, it put a lot of us on more on the map than we were obviously. It's just really fortunate to get to be a part of something like that - it doesn't happen very often, you're lucky to get one show like that in your lifetime.
CDM: What was the number one thing you took away from playing Sam on the show?
SAM: As an actor and for my craft, getting to play somebody for seven years which I'd never done, I really got to learn a lot about my own work - you're always looking to get better, that's one of the reasons I love my profession, is that you never quite get it. So for me, it's always quite fascinating trying to work on your craft and your process and that was a great opportunity for that.
CDM: You've been working on a mix of both film and television roles in recent times. How do you find working on those different length projects, and do you tend to prefer one over the other at all?
SAM: That's a great question. I don't really prefer one over the other, but they're just very different. With movies you have to really jam a lot in, you only have two hours to tell a whole story, it starts one way and ends another way and you only have limited scenes to do that, so that becomes very challenging. There's just so much great writing on television these days, it's never been a better time for TV. I think a lot of people are just being drawn to getting to extend their parts and the characters and do that extensive character work. So I'm much more drawn to TV than I used to be, it's just where the most exciting stuff is happening right now.
CDM: Are there any other films/TV shows that you've watched recently that you could recommend to our readers?
SAM: Absolutely! I watched this series while I was in Australia, I think maybe you can get it in New Zealand, but it's a Belgian series called 'De Dag' and it's about a hostage situation in a bank. Each episode is one side of the situation - you're with the criminals in the bank for one episode, you're with the negotiators outside the bank during that same time period for the next episode, then it goes up another hour and it goes back and forth like that. It's one of the best series that I've seen, one of our directors on 'Reckoning', an Australian director, recommended it.
CDM: Is it true that you once lived on an Indian reservation for a period of time?
SAM: Yeah! It was my first memory, for two years when I was three and four-years-old my father was a surgeon, and he had to do service at the tail end of the Vietnam War. We were on a Native American reservation called Belcourt, which is in North Dakota, just a few miles south of Canada. I remember playing with the Native Americans and those were my first memories! There were only three different European heritage families there, so it was a really unique experience, but it was all I ever knew so it didn't stand out to me as being really different or unique at the time. When I look back I go, "Oh yeah, that was probably pretty neat," but I don't have tons of memories because I was so young, I just remember it was so cold and we were playing with them.
CDM: When did you first decide that acting was what you wanted to pursue as a career?
SAM: Well, I'd been to Paris for the year, I came back a little burned out on that subject and a friend of mine suggested that I audition for a play. I had friends that were actors and I was kind of curious about it, and so I did and I got cast in my last semester of college and then I did two more plays. I just thought, 'Whoah, this is really incredible,' and there were people at my school who were going to New York to pursue it and were going to drama school, so it was something that was being done. So I just said, 'I'm just gonna give this a shot,' and I moved to New York and kind of started from scratch. I started from the very bottom with no agent, nothing, and worked my way up. I walked into some agencies and somebody took me on, and I started doing plays and movies and built a career. Everybody's career is so different and everybody's path is so different, but I really started late. I'd never done a play until I was 22; I'd never acted in my life until I was 22.
CDM: At what point in your career did you decide to transition from acting on-stage to on-screen? How did you find that change?
SAM: I never had one more in mind over the other. I'd done a couple of plays, so I moved to New York. I actually sort of started doing both at the same time. That first year I did my first play was in Winnipeg in Canada, I did a play called 'Another Time', a Ronald Harwood play. A few months later, I did my first movie called 'The Hotel Manor Inn', so I was doing little independent movies and plays. It was sort of TV that I came to later. It's very different though, it's not a natural transition. Acting is acting, but if you're a great theatre actor, you're not necessarily gonna be really good in front of a camera, and vice versa. It's the same thing, but two very different ways of doing it. So it was challenging going back and forth. In doing plays, it's live and you have to be loud enough for everybody to hear you but also keep it real, and you're doing the same thing every night but you have to keep it different a little bit, whereas films are about just getting this little moment. You don't have to worry about knowing the whole thing, you just are getting little moments. It also has to be very real and honest, much more so than theatre. That's what I like about film - it's really right up in your face, it magnifies your face by a lot and you get into somebody's head and I love that a lot as well.
CDM: What do you think the biggest change in the entertainment industry has been since you first started out?
SAM: For sure, it's been TV. Just the growth of all these online streaming services and the number of TV shows and the quality of television. There's more quality stuff to do in front of the camera than there used to be because television wasn't in the same place as it is now. It's just a really good time for writers and there's just a ton of great writing out there.
Load next