Review: Taylor Swift's Eras Tour - MetLife Stadium (East Rutherford, New Jersey), May 2023.
Review: Taylor Swift's Eras Tour - MetLife Stadium (East Rutherford, New Jersey), May 2023.
If the gift of a near-death experience is your life rapidly flashing before your eyes, then the opposite; a life-giving experience buoyed up by an extended full-length feature film, must surely be the inimitable phenomenon that is Taylor Swift's sold-out Eras Tour - an effervescent supercut of the 10 eras of Swift's 17-year career thus far. "It's been a long time coming," emphasised an opening refrain last night at East Rutherford's MetLife Stadium, acknowledging the five years (and four new albums) since her last tour.
The zenith of showmanship, Swift's 10-act celebration (opening with a tribute to her 'Lover' album, followed by 'Fearless', then 'Evermore', 'Reputation', 'Speak Now', 'Red', 'Folklore', '1989', two surprise songs, and then 'Midnights') played out like a Broadway play with expansive production, inviting fans to traverse with her through a whimsical multiverse of colour-coordinated worlds that included a picturesque cabin deep in the woods, lonely dinner party for two, witchy séance, underwater swim, and bedtime climb up into clouds.
At its core, The Eras Tour is a love letter from Swift - for her past, to her present, and hand-in-hand with her fans dreamily looking forward to the future. "I've been writing songs and playing them live since I was 12," she reminisced last night. "This is the way that I process stuff: I make music, and then I sing it with you, and when you sing along, I feel good." And this is what Swift does best - emotional solidarity and main-character enlightenment, just all wrapped up in 16 crystal-adorned costume changes, and a 45-song-set that spanned 3 hours and 40 minutes for the sold-out New Jersey crowd.
But for all the bells and whistles (and lit-up neon bicycles and fiery pyrotechnics), Swift's true power is her songwriting prowess, and tender moments like the 10-minute version of fan-favourite 'All Too Well' were the heart of the show - not just drawing you further into Swift's core memories, but also crowning every audience member an important part of her story as they collectively yelled "fuck the patriarchy" in unison and then marvelled over the perfect timing of snowy confetti falling during the sixth verse of the song. Swift isn't a virgo, but she's definitely a perfectionist, and although her proclivity for vivid storytelling has always been a strength, it's with The Eras Tour that her technicolour dreams have now been unleashed like lightning from a bottle.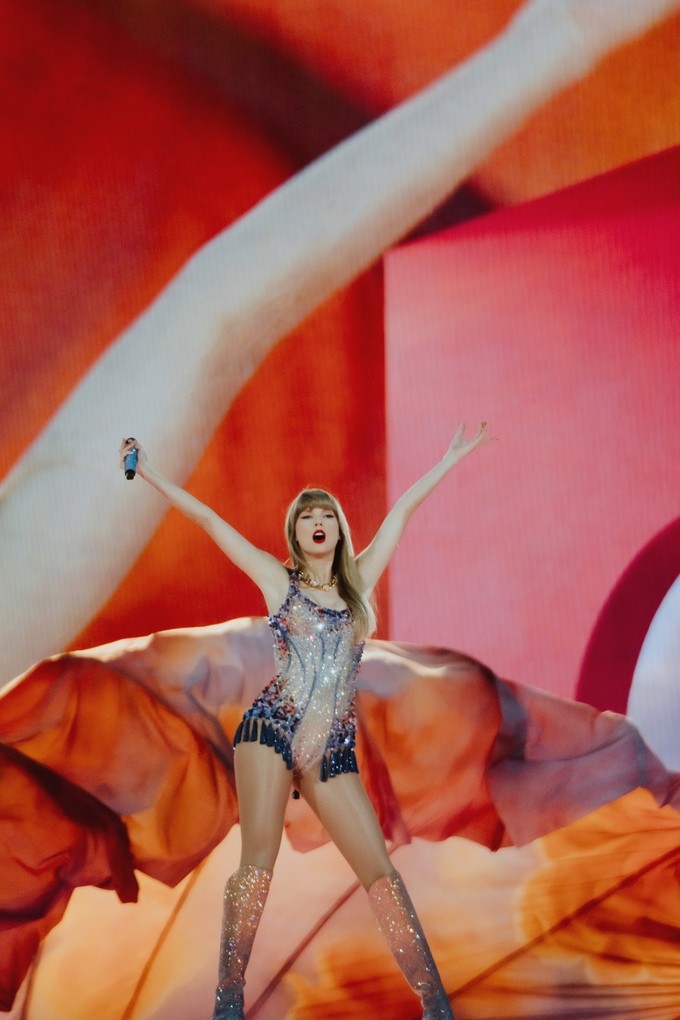 The plaintive ache of 'Champagne Problems', the youthful jubilance of 'Fearless' and 'You Belong With Me', and crowd-pleaser 'Betty' were also highlights, with 'Enchanted' summing it up best: "This night is sparkling, don't you let it go." Because there's shows, and then there's Taylor Swift shows - encompassing multitudes within multitudes of easter eggs (each of her nails painted a different colour to represent one of her 10 albums), surprise songs (two different songs at every single Eras Tour dates, with only 'Midnights' album tracks to be potentially ever repeated), and secret guests (of course!).
Rewarding the Tri-State area for their fervent adoration and undying enthusiasm, Swift bestowed a trio of special guests last night - with opening act Phoebe Bridgers called forth to aid in performing 'Nothing New', home-state hero Jack Antonoff ("He's one of my best friends and we've worked together a number of years... he's a family member at this point") summoned for an acoustic rendition of 'Getaway Car', and Ice Spice taking to Swift's catwalk for the freshly released remix of 'Karma' (which followed Swift premiering the new track's music video earlier in the show).
It turns out that the happiest place on Earth is not Disneyland (nor Finland; apologies to the United Nations' annual World Happiness Report), but at a Taylor Swift show - the atmosphere so reminiscent of the most intimate and hospitable of hugs, that one can't help but feel extraordinarily bejewelled, with Swift's new-found peace of mind reflected as far as the eye can see in both the sparkly costumes of her fans, but also their much-deserved exultation after surviving the trenches to secure tickets to this year's hottest tour.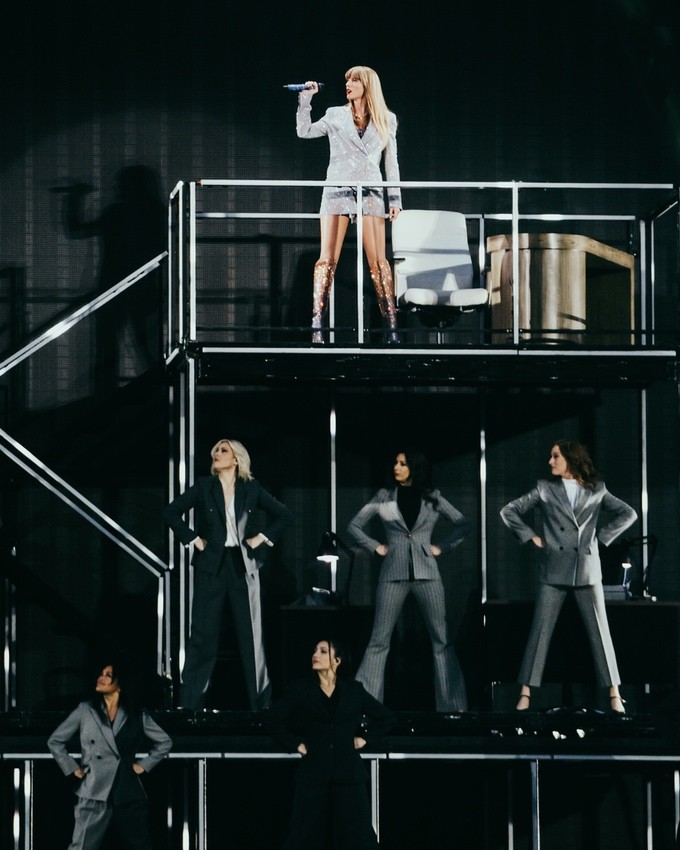 Setlist:
Miss Americana & The Heartbreak Prince
Cruel Summer
The Man
You Need To Calm Down
Lover
The Archer
Fearless
You Belong With Me
Love Story
'tis the damn season
willow
marjorie
champagne problems
tolerate it
...Ready for It?
Delicate
Don't Blame Me
Look What You Made Me Do
Enchanted
22
We Are Never Ever Getting Back Together
I Knew You Were Trouble
Nothing New [with Phoebe Bridgers]
All Too Well (10 Minute Version)
the 1
betty
the last great american dynasty
august
illicit affairs
my tears ricochet
cardigan
Style
Blank Space
Shake It Off
Wildest Dreams
Bad Blood
Getaway Car [with Jack Antonoff]
Maroon
Lavender Haze
Anti‐Hero
Midnight Rain
Vigilante Shit
Bejeweled
Mastermind
Karma [with Ice Spice]
Load next