Review: The 1975 - Madison Square Garden, New York.
Review: The 1975 - Madison Square Garden, New York.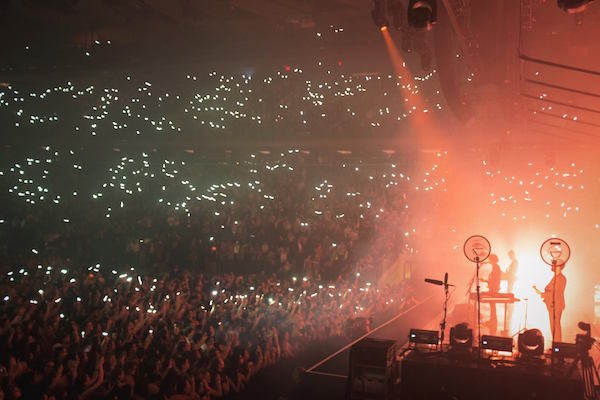 June 1st is an important date for any fan of The 1975 - so the story goes, that frontman Matty Healy named the band after reading a note scrawled on a copy of a book he was lent, which read 'June 1st, The 1975', and the rest, as they say, is history. But June 1st, as of last night, will go on to not only be remembered for the band's origin story, but for their sold-out, unforgettable performance at the iconic New York City venue Madison Square Garden.
Opening for the show was new Dirty Hit Records signees Pale Waves, who certainly made a number of new fans with their short yet catchy set, which included a number of unreleased songs.
Clad in black velvet and silver leather, the band (made up of Heather, Ciara, Hugo, and Charlie) only have one officially released song in the world currently - 'There's A Honey' [which was produced with Matty Healy and George Daniel], however, their set shone a light on some future songs which will no doubt get stuck in your head.
The set highlight came from 'Favourite Obsession' - which is frontwoman Heather Baron-Gracie's favourite song to perform, and saw her shredding during an epic guitar break in the bridge of the song.
The drone noises started as the wait for the main act began, and at 9pm exactly, 'The 1975' began to play as the band made their way on stage. It's been a crazy year for Matty Healy, George Daniel, Ross MacDonald, and Adam Hann, and this show was nothing but perfection, and testament to where they are today.
What would a The 1975 show be without a Matty Healy with a cigarette, and a glass of red wine? During 'A Change Of Heart', he donned both as his accessories for the song - though he managed to light his cigarette at the correct end, unlike the subject of the song.
'Loving Someone' saw the first few rows of fans (who had camped out for the show for a whole week, FYI) waving mini Pride flags, which felt especially symbolic, as June is Pride Month. The song has become something of an LGBTQ+ anthem, and with proceeds from their Pride merch now being donated to the It Gets Better Project, it's clear the band are aware of the importance of this community and its representation, particularly in their fanbase.
A performance of 'She's American' felt nowhere more fitting that here to be played, and the audience definitely agreed - grooving along to its funky bass-line.
The band's more ambient songs had their time to shine during the show too - with 'Please Be Naked' and the title-track from 'I Like It When You Sleep, For You Are So Beautiful Yet So Unaware of It' having the audience-members bopping along just as much as to their singles.
When Matty stopped to speak to the audience, it was clear he was considering each and every word - especially as he was speaking to so many people - but spoke sincerely and thoughtfully. "When we started 12/13 years ago, we never thought anything like this was possible," he said about selling out a venue of this size. "This is a big fucking moment for me," and he was 100% aware of the reason that these venues are selling out - "We're a fans' band, and that's you guys."
Matty literally threw himself across the stage during a rare performance of 'The Ballad Of Me And My Brain' [a song that can be quite draining for him to perform], before the main set was closed out with 'Girls' and 'Sex', two earlier songs from the band.
The four-song encore saw the addition of some back-up singers, which transformed 'If I Believe You' into a truly religious experience, and 'The Sound' become even more joyous than ever before. 'The Sound' also inspired every audience member to get up on their feet (even those in the seated sections), jumping up and down in time with Healy's dancing - and was the perfect end to their unforgettable and magical performance.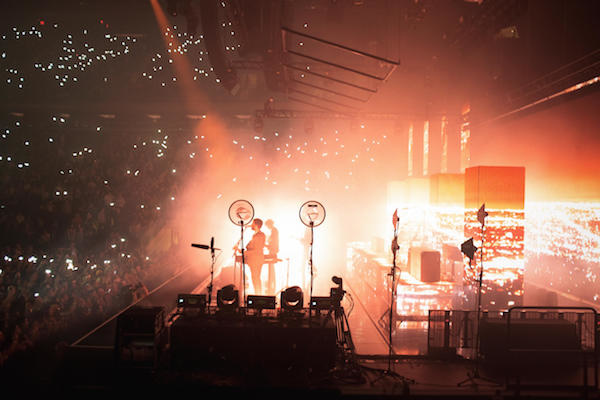 Pale Waves Set-List:
Television Romance
Heavenly
Kiss
Favourite Obsession
New Years Eve
There's A Honey
The 1975 Set-List:
The 1975
Love Me
UGH!
Heart Out
A Change Of Heart
An Encounter
Robbers
I Like It When You Sleep, For You Are So Beautiful Yet So Unaware Of It
You
Loving Someone
She's American
Please Be Naked
Lostmyhead
Somebody Else
Me
Fallingforyou
The Ballad Of Me And My Brain
Girls
Sex
Encore:
Medicine
If I Believe You
Chocolate
The Sound
Load next