Interview: 2018 Must-Know - Dead!
Interview: 2018 Must-Know - Dead!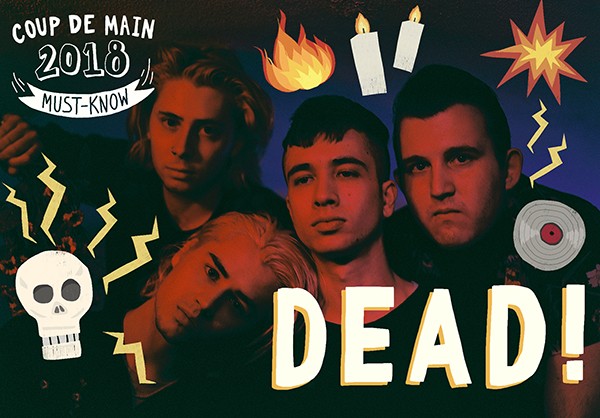 Proclaimed by Kerrang magazine as one of the hottest bands of 2018, the UK's Dead! are ready to take on the rest of this year (and the rest of the world), now armed with their debut album 'The Golden Age Of Not Even Trying' and an extraordinarily impressive work ethic.
MUST-LISTEN: 'The Golden Age Of Not Even Trying', 'You're So Cheap', 'Jessica'.
YOU WILL LIKE, IF YOU LIKE: My Chemical Romance, The Used, Frank Iero and The Patience, Funeral For A Friend, Bring Me The Horizon, Gerard Way, You Me At Six, Taking Back Sunday... and an untiring D.I.Y. attitude.
COUP DE MAIN: What can you tell us about your debut album 'The Golden Age Of Not Even Trying'?
DEAD!: I'm not sure what to say, except that it's finally fucking here and you don't want to miss out on this. This is DEAD!'S DEBUT ALBUM. It's recorded in Soho, its 11 proper British rock songs, it's a record about growing pains.
CDM: Having been a band for five years, why does now feel like the right time to release your debut album?
DEAD!: It's almost the norm for bands these days to run for a few years, then split up, re-brand and relaunch with something serious going on. We've never done that, we've kept the fire burning until now when we're ready to show people who we really are. It takes time to grow into your character and to realise what you want to look and sound like. I think we're there now and ready to start the journey of being a "real" rock band.
CDM: Do you have a favourite song on your album?
DEAD!: For me personally either 'The Boys † The Boys' - because it feels like a bunch of boys in a band should, and it tells a story about a night out gone wrong thats kinda fun looking back at it… Or 'Youth Screams & Fades'. It's a bit standalone compared to the rest of the record but I think that's important. It's less about speed I.D.C. moments of growing up, and more about the things that run through your head when you're alone at night y'know?
CDM: Your band's D.I.Y. work ethic is so impressive! Why was it important to you in your early days to do things like hand out handmade flyers and play passersby your music via an iPod?
DEAD!: I don't think we even considered ourselves a D.I.Y. band for the first year. We didn't want to just be a local band in Southampton, so all of the flyering and hiring venues, acting as our own PR, agent, management, label, promoter etc was just the only way to avoid stagnating.
CDM: Will you continue publishing your Burn The Press zines?
DEAD!: Of course. We're living at the start of a digital age, and we're proud to remain a beacon of physical art that you can hold in your hands.
CDM: How does your songwriting process work?
DEAD!: Well we actually used to live together in a small bedroom in Paddington. After working at the bar I would come home and write something instrumental on the shared computer, then the next day I would come back from work and Alex would have left some vocals on it. Maybe a few chops and changes, repeats of the process, then boom - we had a demo we were both happy with to show to everyone.
CDM: What's your favourite song that you've written?
DEAD!: Probably 'You're So Cheap' to be honest. It's simple, it's easy. Guitarists have learnt it and sent us videos of them playing it. People scream their heads off when we play it live. To see it connect with so many people has been wicked.
CDM: What do you think is the difference between a good song and a great song?
DEAD!: I don't know if there is a definitive answer to that. You can make a good song better by tidying it up, following an easier structure, keeping it digestible for the majority of listeners - but those songs like 'Mr. Brightside' or 'Waterloo Sunset', I don't know if you can ever know what truly makes them some of the best songs ever written. Maybe it's a right place at the right time kind of thing. Maybe they're just better than the rest of us? Haha.  
CDM: What do you hope for people to take away from listening to your music?
DEAD!: Whatever they want. Enjoyment to be honest. If we pump people up before a night out, cool. If the album helps them out of a shitty family life, cool. If it soundtracks your sadness and lets you wallow in it that's fine too! That's the beauty of music - it may look a little mistreated and devalued these days, but we couldn't live without it. You can take from it whatever the hell you want to take from it.
CDM: If D.E.A.D! were an acronym, what would each letter stand for?
DEAD!: Delirious Egomaniacs And Drummer!
CDM: What's on your bucket-list?
DEAD!: Meet Winona Ryder, sell out Koko, sell out The Forum, sell out Brixton Academy, make it rain rose petals at one of those shows, make it rain sparks at another one of those shows, get big in Japan, have a fling in Japan, live in Japan, embrace excess, struggle with excess, recover from excess, move back to London. Come back with a heroically good album. Headline Hyde Park.
CDM: You're one of our 'must-know' artist picks for 2018... who are yours?
DEAD!: I think I'm still strung up on the strength of 2017's artists. I'm ready for a new SWMRS record. Can't wait for Airways to drop a new single, QOTSA just dropped that awesome album. Maybe The Cribs will do something new? It's an exciting time for new music, and not just for us…
Watch the 'The Golden Age Of Not Even Trying' music video below...
Load next