Coup De Main presents: Hanson's 2017 New Zealand show.
Coup De Main presents: Hanson's 2017 New Zealand show.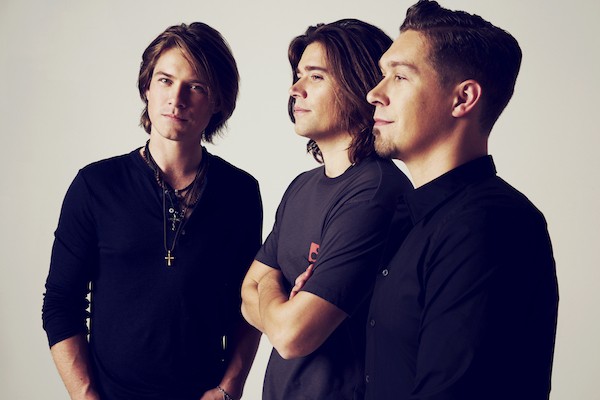 In celebration of Hanson's 25th Anniversary, the band have announced that they'll be returning to New Zealand this June to play Auckland on Tuesday, June 27th as part of their Middle Of Everywhere World Tour, as well as Australia.
"Making music together for 25 years is a milestone that we had to acknowledge, and what better way to do it than an anniversary tour," said keyboardist Taylor Hanson. Added guitarist Isaac Hanson, "This year is not only about the two decades of music, it's about celebrating the incredible community of fans who have been with us, singing along year after year."
Tickets will go on sale from 9am on Monday, March 27th.
"Founded in 1992, the trio of brothers began performing classic rock 'n roll and soul music, and writing original material, crafting a unique blend of harmonies and organic soulful pop-rock. The group took the world by storm with their debut major release in 1997, ushering in a string of US top 40 singles and establishing them as one of the world's leading music artists.
In 2003, the group founded their own independent 3CG Records, starting a new era for the band with their #1 independent album Underneath, featuring hit single "Penny And Me", positioning them among the most successful independent bands to date. Since then, HANSON has released three studio albums under their label, toured the world cultivating a vibrant global fan base engaged by their dynamic live performances, and released an ongoing stream of special products direct to their devout fan community.
In 2013, the group diversified its brand with the founding of their Hanson Brothers Beer Company, and in 2014 added The Hop Jam Beer and Music Festival based in their hometown of Tulsa, Oklahoma. The festival brings together artists and brewers from all over the world, culminating in one of the leading Craft Beer and Music Festivals in the US, with over 40,000 attendees, occurring this year on May 21st in Tulsa. The Middle Of Everywhere Tour showcases more than two decades of music in a celebratory world tour, alongside new music that will be followed by a further release in 2018."
HANSON - MIDDLE OF EVERYWHERE 2017 TOUR
PERTH - Thursday 15th June – Metro City - Oztix.com.au
ADELAIDE - Friday 16th June – Thebarton Theatre - Ticketmaster.com.au
MELBOURNE - Sunday 18th June – Forum Theatre (18+) - Ticketmaster.com.au
SYDNEY - Wednesday 21st June – Enmore Theatre - Ticketek.com.au
GOLD COAST - Saturday 24th June – The Star - Ticketek.com.au
BRISBANE - Sunday 25th June – The Tivoli - Ticketmaster.com.au
AUCKLAND - Tuesday 27th June – Town Hall - Ticketmaster.co.nz
Watch Hanson perform 'Get The Girl Back' live below...
Load next