Interview: Pale Waves, a shoulder to cry on.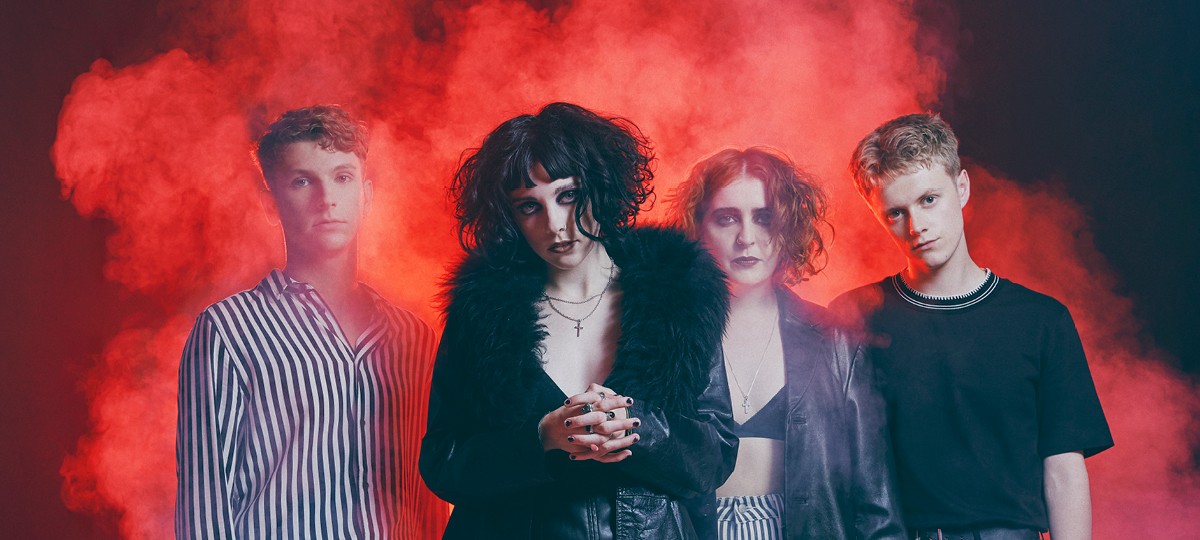 "I'll let you know if I ever feel like I've completed the jigsaw," says Pale Waves frontwoman Heather Baron-Gracie, laughing at the thought of having a good understanding of herself, when self-evolution is such a constant process. Baron-Gracie, ringleader of the Manchester four-piece who are signed to cult London record label Dirty Hit (home to The 1975, Wolf Alice, The Japanese House and more), is today reflecting upon the year that's been, while sitting on the band's tour bus after soundchecking for a headline show in Philadelphia later that night. One of Coup De Main's 2017 Must-Know artists, Pale Waves have spent this year as finalists in the BBC Sound Of 2018 poll, winning the NME Under The Radar Award at the NME Awards, and releasing and touring their empathetic debut album, 'My Mind Makes Noises'.
In the lead up to their album release, Pale Waves made their Australia and New Zealand debut, playing sold-out shows in Sydney, Melbourne, and Auckland. The band showed themselves to be great performers opening for labelmates The 1975 at Madison Square Garden last year, but in the 18 months since, they have taken things up a gear. Their live show is now a heart-hitting pop machine, with Baron-Gracie inviting you to live inside the plush interiors of her mind while she unravels the intricacies of relationships and emotional turmoil. It's like live therapy, but with friends present to hold your hand.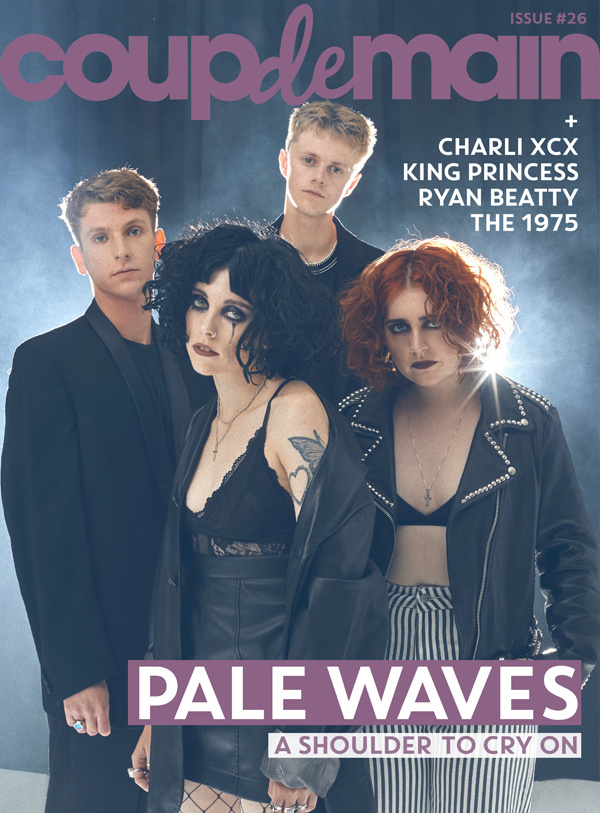 Click here to order a CDM x Pale Waves zine (i.e. a mini-magazine featuring photos and quotes from this cover-story).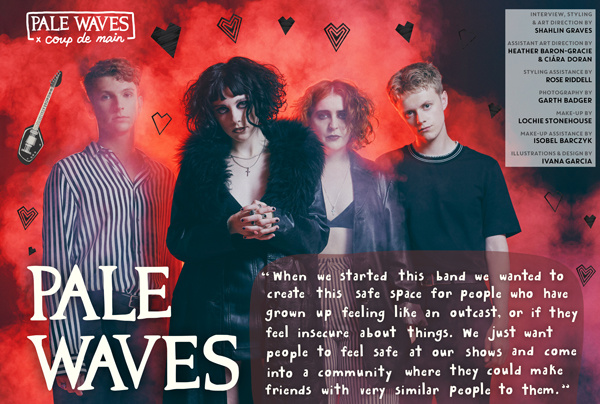 And so we found ourselves with the band in Auckland this past July. Vocalist Baron-Gracie is a live-wire with a motherly touch, equally as likely to suggest outdoor go-karting as a fun activity during a storm (her eyes light up when I point out the danger that winter weather poses to her health: "Even better!"), or to endearingly nickname you "bubs" within minutes of meeting for the very first time. Having hit it off at university in Manchester, her songwriting partner (and amateur Prosecco connoisseur) Ciára Doran is the yin to her yang, preferring the indoor option of an 'Incredibles 2' screening, which she proceeds to fall asleep in. Doran has a heart of gold, however today her wicked sense of humour is running away with her. She maddeningly interrupts her best friend's phone call with us at regular intervals, parroting all she can overhear, incredibly proud of herself for 'nailing' the New Zealand accent.
Baron-Gracie and Doran's bandmates, bassist Charles Wood and guitarist Hugo Silvani, might not have friendship tattoos of each other's names like the female members of Pale Waves do, but it's clear that they are firm friends. While Wood is the more reserved of the two (if you ask nicely though, he might show you photos of his sister's adorable miniature dachshund), the baby of the band, Silvani, has an infectious enthusiasm for all of his favourite viewing recommendations (John Krasinski ought to thank him for convincing us to watch 'A Quiet Place'), and is the real master of impersonations in Pale Waves (sorry Ciára) - he gives an uncanny parody of a beauty blogger that's almost too good.
Five months on from their visit to our homeland, we caught up with Baron-Gracie over the phone to discuss the importance of Pale Waves songs being open about everything from mental health to LGBTQ+ representation, and the kinship she feels towards fans...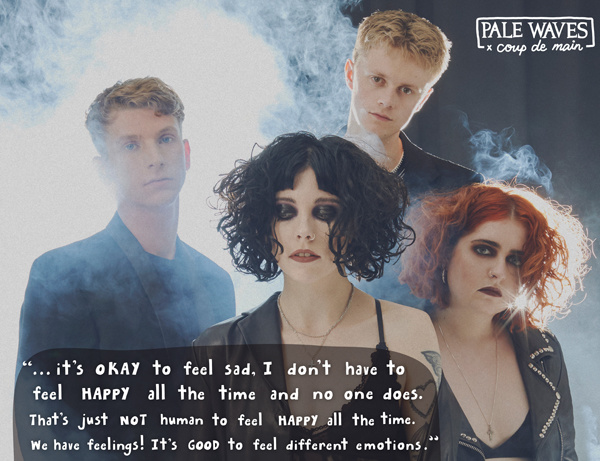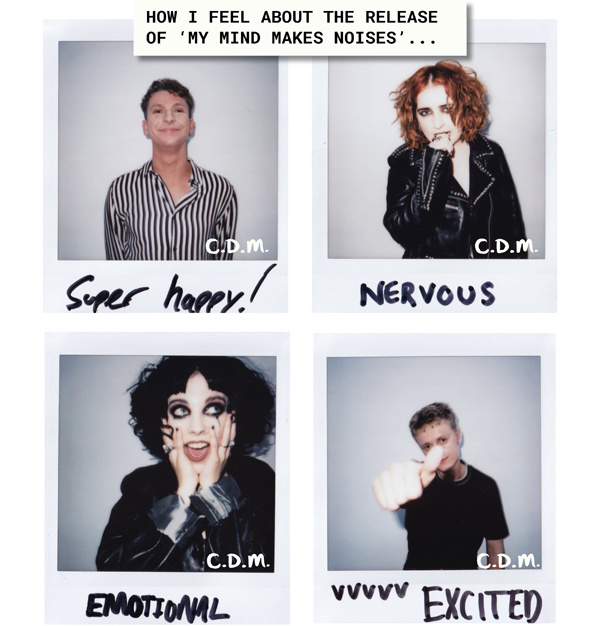 COUP DE MAIN: 'Noises' is one of my favourite songs that you've written, it's just so important with its very real representation of mental health. Was it important to you to write this song to give your fans solidarity and reassurance that they aren't alone in feeling complex emotions?
PALE WAVES - HEATHER BARON-GRACIE: 100%, because our fanbase is quite wide in terms of the age range, but it's always those young girls and boys on the front row and they look from around 16 onwards, and sometimes even younger, and I feel like that's such an important/scary time in your life. It was for me, when I was growing up. There were times where I felt really uncomfortable and vulnerable and I needed those people to look up to and to hear them say, 'You know, I feel like that as well and it's okay to feel sad and be down.' So yeah, it's definitely important, and I can feel it. I can feel it every time we play that song live. I can feel how much it means to everyone.
CDM: In the 'Noises' music video you ask, "Does everyone feel this way?" And your fans have responded so positively to the song - has their reciprocation also been a comfort to you too?
HEATHER: 100%. Our fans are so lovely and they give me such reassurance, and they give me compliments every day, and it is very reassuring. It's a relationship between me and them - I give them reassurance and they give it back to me, and we both sort of find comfort in one another.
CDM: What were the different names you gave your characters in the 'Noises' video?
HEATHER: The blonde-haired one was called Monica. The gothic one was Victoria. I can only really remember those two.
CDM: This was a test of your short-term memory and you have failed.
HEATHER: I know! Shocking! Definitely Monica and Victoria though.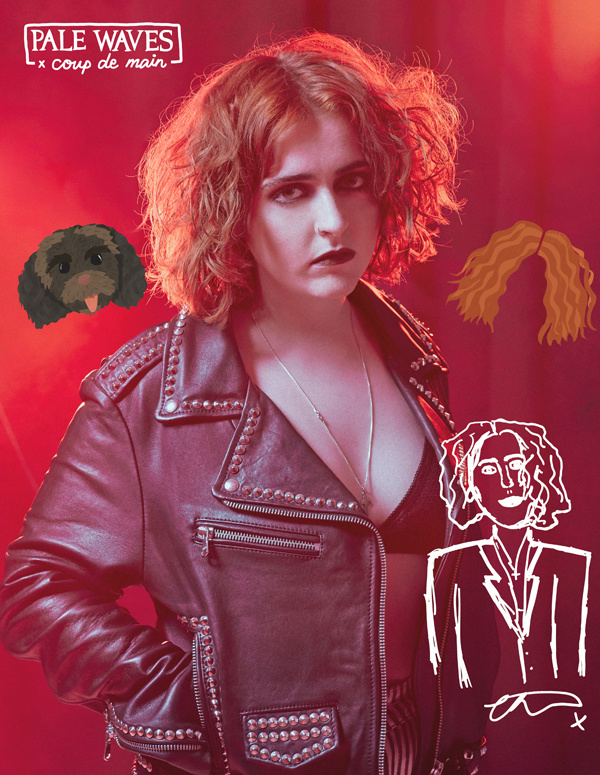 CDM: Was 'Noises' a hard or easy song to write?
HEATHER: It was really difficult. Like, difficult emotionally. Because I was writing down how vulnerable I am and what I think about myself. But it was hard because I wanted to represent it in the right way and I knew it was going to be such an important song that I sort of went over the lyrics again and again because I feel so strongly about this and I didn't want it to get diluted. I needed it to be as straight to the point as possible.
CDM: I really love the metaphor, "My mind makes noises too much." How did you come up with it?
HEATHER: It's just one of those things that popped into my head. I didn't read anything, I wasn't watching anything, it was just one of those lyrics that sort of popped into my head. I must have been talking to Ciára. We have conversations all the time about me being the way I am and I was just like, 'I feel like my mind just can't stop.' And then I think that's sort of where it came from, "My mind makes noises."
CDM: You've said that 'Drive' is a part two to 'Noises' and reflects how you feel now at the age of 23. At what age did you write 'Noises'?
HEATHER: It was on an American tour, I think I was 21.
CDM: So in the last two years, what have been the most important things you've learnt about yourself between writing 'Noises' and 'Drive'?
HEATHER: I've grown up a lot since I wrote 'Noises'. When you're in this industry, you go all around the world and I've not been home in months, I've not seen my family, and it sort of forces you to grow up because you don't really have that kind of childish comfort, with having your parents around all the time. So I feel like I've grown up a lot since I wrote 'Noises' and 'Drive'. And I feel like I'm still figuring things out about myself and I feel like it's going to take a long time before I... I surprise myself every day with stuff. Like, sometimes I get really sad about stupid things, and I'm like, 'God, I'm 23, why I am I still feeling like this?' Or why am I still doing silly immature shit? But I feel like it's going to be a while until I fully figure myself out. But, then, do you ever figure yourself out?
CDM: On a similar train of thought, in 'Black' you say, "I'm not changing, I'm just waiting to figure myself out." Is that journey of figuring yourself out a constant process that is always evolving? Or a mental state you can reach?
HEATHER: I'm 23 now and I'm still surprising myself and figuring myself out, so I'm still in the same position that I was when I wrote 'Black'. I feel like I've still got a long way to go. And I don't know if it ever ends. I have no idea. Maybe I should ask my parents if they think that they fully understand themselves. I feel like I'm definitely still evolving and I've still got to figure a lot of things out about myself.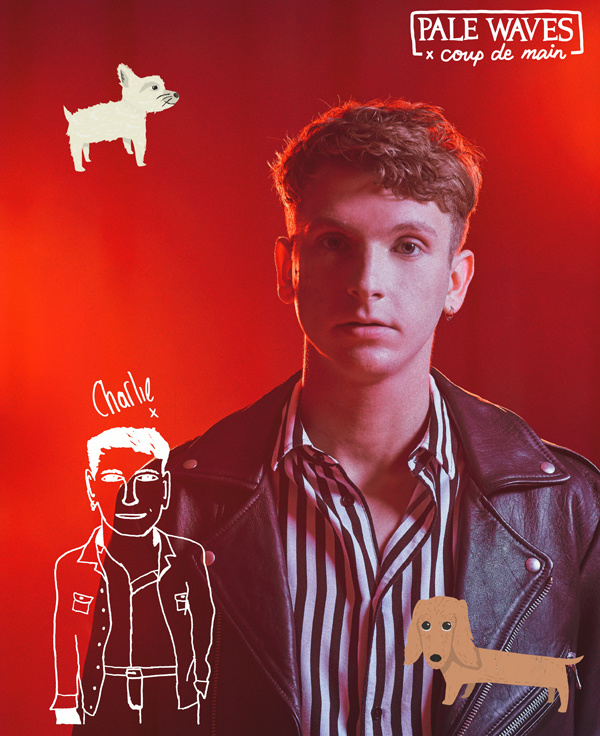 CDM: The third verse in 'Drive' is extremely relatable: "I ruin my own life just for nothing / I fall in and out of love with everything." What was running through your mind while writing those lyrics?
HEATHER: It's just how I am. I do a lot of things I know that I shouldn't do, but I cause problems sometimes just for reactions and I don't even know why I do it. I overthink a lot of things, and I don't understand myself half of the time. Like, I do things and then I regret it so much in the morning, and then I'm like, 'I should have really thought about that before I...' Sometimes I act upon it without even thinking about everything, and then that just sort of ruins it for me, and it ruins relationships, it ruins friendships, and sometimes I just wish that I would take a step back. My emotions, I can't hide them, I just act instantly. Like, if I'm upset, then that person needs to know I'm upset, like straight away. I can't hide it. I need to talk to them. Or I need to fall out with them. I can't sit back and look at the bigger picture sometimes, and I feel like that was what was going through my mind, because there's been a lot of situations where I've made it worse because I've not looked at it from a bigger perspective, I just dived in being emotional.
CDM: It's usually better to be honest though, than to bottle up your feelings.
HEATHER: It definitely can. Just sometimes, when the person doesn't mean to be doing something, or it comes across differently in my eyes but I can't see it from their point of view sometimes... I think that's a downfall of me.
CDM: At least you're self-aware. That's the first step.
HEATHER: True. I know I can be a dramatic, chaos-causing person at times and I'm fully aware of that, and the whole band is.
CDM: And they still put up with you.
HEATHER: Yeah they do, but they do take the piss out of me a lot though. <laughs>
CDM: My favourite thing about Pale Waves is how perfectly you encapsulate feelings in song-form. Like 'Drive', it feels like more than a song, it feels like an emotion in itself. How did you feel while you were writing 'Drive'?
HEATHER: I wrote that in the studio actually, and that was one of the last songs to be written and recorded for the record. I had the verse for quite a while, I had, "I'm 23, I still feel the same way, maybe. This ain't about you, this is about me." So I had the first half of the verse for a good while and I kept showing it to Ciára and I was like, "I really want to finish this song because I feel like it's sort of an updated version of 'Noises', like an older version of it." And then it got to a point in the studio where we needed more ideas and more material to work with because we didn't have enough, so I sat down and I finished that song. "I drive fast so I can feel something," that's the line that I wrote quite early on in the songwriting process and Ciára was like, "Oh my god." She was obsessed with the melody and the lyrics of that one line, she actually just sat in the studio with it on repeat for about half an hour with no one around and she just listened to it again and again. And it's her favourite thing about the whole album, that one line, how I deliver it and the emotion and the melody behind it. And then I finished it, and Ciára put a lot of the music to it and added guitars to it. We wrote it quite fast actually. It came out really fast. With 'Noises', the songwriting process for that was really, really long. It took me a while to get it right. I kept going over things and I kept changing things, but I think because we were under the pressure of the album coming out, and we had a certain amount of time to record, I didn't have the time to second-guess myself so much and keep going back to change 'Drive'. But I'm glad that I didn't do that, because I feel like it would be different.
CDM: When you're writing songs, are there any particular emotions you tap into the most to get yourself into the zone?
HEATHER: I have different emotions each day, and some days I can be really depressed or really sad, or feel like I could cry at any minute. But not sad tears, happy tears. I'm so emotional, some days more than others, that's when I feel like I'm the best songwriter that I can be - when my emotions are heightened. I read this quote, it was something like, 'It's both a blessing and a curse to feel so much at once.' And I was like, "Wow, that is me summarised." And every time Ciára goes off at me about me being really emotional, I'm like, "Well, these songs wouldn't come out of me." And she's like, "True." Because she gets a bit fed up with me sometimes. <laughs>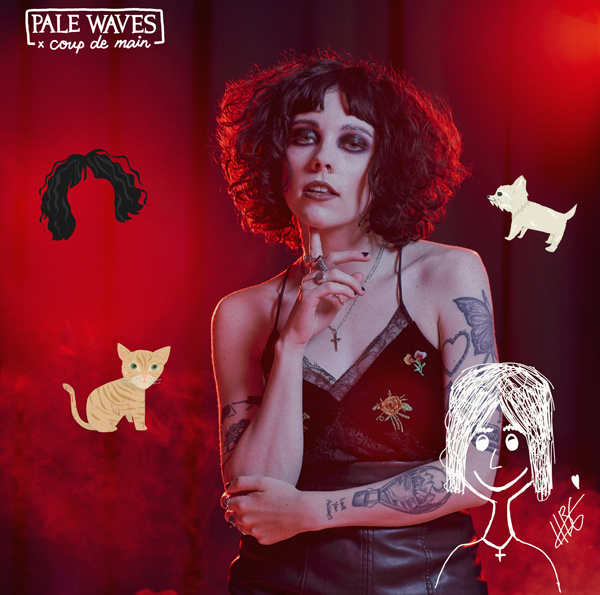 CDM: The concept behind 'Loveless Girl' is quite interesting - that if you're not an externally affectionate person then you're considered to be unloving. Do you think that's a dangerous societal construct to force upon people?
HEATHER: In that case with 'Loveless Girl', that person attacked me in that way because I didn't give them what they wanted - I didn't give them the love that they wanted from me. They wanted me to be in a relationship with them, and then when I explained to them that I didn't feel that certain type of way towards them, or I wasn't going to give them that, then they attacked me with that and said I was cold and loveless and mean. But it was just because I was rejecting them.
CDM: Even just how emotions are defined is dangerous, I guess. Like we learn at a very young age that feeling sad is bad.
HEATHER: True. I was writing a song recently, and that's the concept. I'm saying in the song that it's okay to feel sad, I don't have to feel happy all the time and no one does. That's just not human to feel happy all the time. We have feelings! It's good to feel different emotions.
CDM: Who decided it was 'okay' to feel this way and not okay to feel another way?
HEATHER: Yeah! And when people try and make you feel guilty about feeling sad or depressed, it's like, 'Well, do you feel happy 24/7?'
CDM: You've been open about the fact that you wrote 'Red' and 'Came In Close' about a girl, which was really awesome to see, because LGBT representation in pop music can often be gimmicky. It's rare that you see it so normalised. Why did you decide to share this with your fans?
HEATHER: I hadn't really said anything about that subject matter - I don't really open up that much about my personal life online, or in social media, or in interviews that much, I write it within my songs. But I felt like it was really important for me and Ciára to speak up because we have a lot of gay fans and a lot of fans that are not just straight, and it can be a really difficult time when you're first sort of accepting that and experiencing these thoughts that you might think, 'Am I meant to feel this way?' So I think that it's really important for people that have people listening to them, to speak up on this subject matter, because it's good for us to represent that this is normal! This is totally acceptable. And if anyone tells you any differently then they're just being an awful person. Love is love, at the end of the day. It just comes back to 'Noises' as well. I just wanted to tell them that they're not alone.
CDM: It's so important to normalise representation. If we don't, then it's always going to be considered abnormal and 'different'.
HEATHER: Like, King Princess, she's amazing! She's so cool. It's so good that there's artists out there who are being so open with sexuality, because in this day and age it's been such a subject of, 'Oh, don't talk about that.' Or it's quite taboo. But now it's becoming more normal to talk about sex and basically everything that they tried to shut down for years.
CDM: Well, I don't think King Princess could have released 'Pussy Is God' ten years ago to the same reception.
HEATHER: No! It would have got a different reaction 100%. It's just amazing to see how far we've come and I'm optimistic for the future. Hopefully things will just keep becoming the way they should have always been.
CDM: Your fans have been super supportive of you and Ciára being open about your sexuality. Is that really heartwarming for you, knowing that the Pale Waves fanbase is truly a safe space for all?
HEATHER: 100%, because that's what we wanted to create. Us as people, we are so accepting of everyone - as long as you are a nice person - and when we started this band we wanted to create this safe space for people who have grown up feeling like an outcast, or if they feel insecure about things. We just want people to feel safe at our shows and come into a community where they could make friends with very similar people to them. And I've had so many fans to say to me, 'We've met through your band and it's amazing, they're my best friend now.' Or we've had loads of people get into relationships because they've found each other through our band, and that really warms my heart.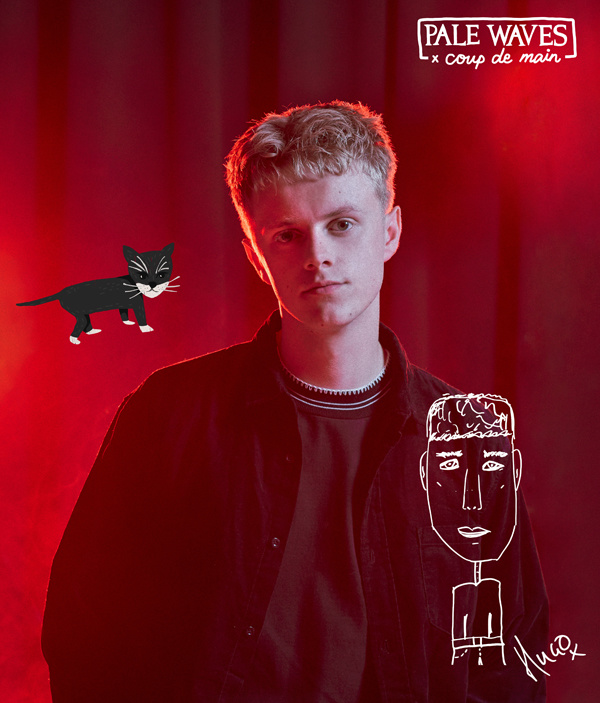 CDM: Alongside Pale Waves, Charli XCX is also on the cover of our new issue, and we just talked to her about how some people don't take her seriously as an artist because she likes to party and she makes pop music about partying. But writing a perfect pop song, that's such a fine art. Why is there such a stigma of looking down on pop artists as 'basic'?
HEATHER: I can't even tell you. It frustrates me when people say to me, 'Oh, pop music is easy to write.' It's like, 'Well, you do it then! You write me a pop song.' If anything, there's more restrictions on pop music, because pop music gets played on the radio the most, so there's certain rules you have to agree to when you're writing pop music. Usually a song won't get played on the radio if it's more than four minutes or something, and that sucks, but we love pop music, so we try to work with these rules. I feel like there's been this negative attitude towards pop music for a long time. Even when people start a conversation with me and they don't know Pale Waves, when they ask me, 'What kind of music is it?', and I say 'pop music', 80% of the time people are sort of like, 'Ohhh... okay.' You can feel the judgement on pop music. But pop music is universal. It's global. Pop music is what your mum will probably listen to, and your dad, and your brother, and your sister. Pop music... is popular. But there's still this attitude towards it, which is frustrating.
CDM: It's so strange though, when you're young everyone shamelessly loves pop music, but at some age, it's decided that it's not cool anymore.
HEATHER: Yeah, that's true. You get those indie people that love to hate on pop music, and they think it's cool to-- Those are the people who are in bands but then they'll say to you that they don't want to be playing big shows, or they want to just be playing underground venues to fifty people, and that's their highest ambition. And that scares me. Or when I talk about our ambitions as a band. We're very open about how big we want to become and how much we want to spread all over the world, but they think that's not very cool for me to say. But at the same time I'm like, well, if I don't care then why should anyone else care?
CDM: And there's nothing wrong with wanting to be successful. If you were a lawyer working towards being appointed to the Supreme Court, no one would look down on you for having big career aspirations.
HEATHER: Exactly. If anything, they would applaud you.
CDM: On September 26th you tweeted, "If you come to a Pale Waves show and shout at me to 'do a song naked' I will have you removed in seconds." Is that kind of objectification the worst thing about your job?
HEATHER: It's definitely one of them. I really didn't expect it though. It only really started happening on this last headlining tour, especially in the UK when we started playing these bigger venues. When people are in a big group, they find it more acceptable to shout these comments at me. Like, the smaller shows, I don't really get those comments. You get people shouting, 'Heather, I love you!' Nice things. But the bigger the venues got, with us, the more sort of horrible comments I got shouted at me, which is kind of shocking. It sort of upset me, because I don't want people like that in our fanbase. And that scares me, if they think that it's acceptable to shout that towards me, and they're in a room with all these lovely people, what are they going to say to them as well?
CDM: Lad culture is the worst.
HEATHER: I know, and that was really frustrating that they would sexualise me in that way. I would be so embarrassed to shout something like that, or to be friends with someone who would shout something like that. And it wasn't just one time, it happened a handful of times on different occasions.
CDM: I'm sorry you have to go through this!
HEATHER: It's okay, I'm quite strong when it comes to stuff like that, I'm just like, 'Eugh'.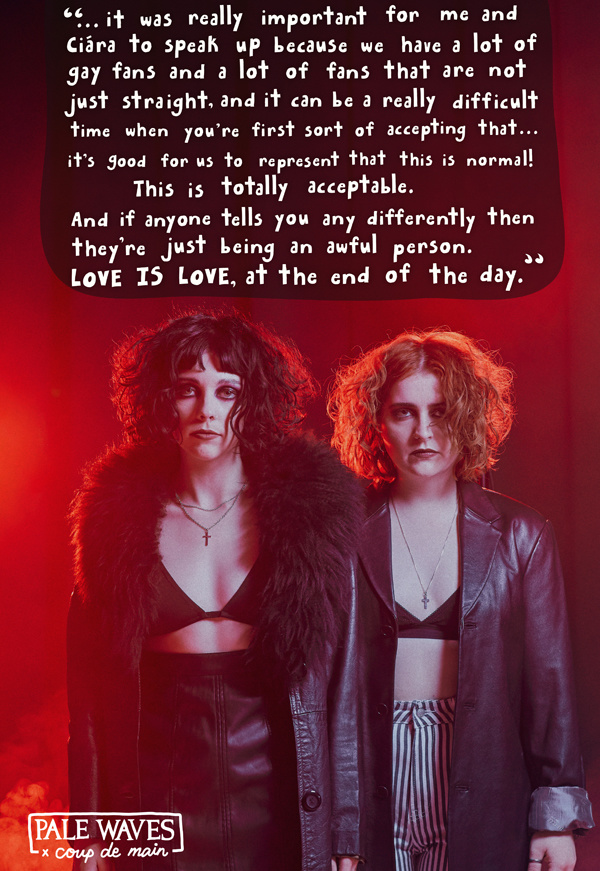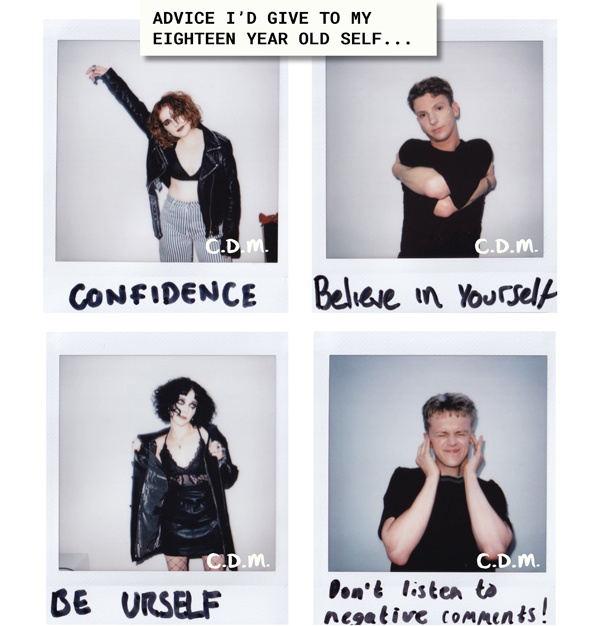 CDM: When we did our last interview before the album came out, you said that 'Came In Close' was one of your favourite songs on the new album. What is it about that song that means so much to you?
HEATHER: I think it's because me and Ciára have a really special bond over this song because it's one of her favourite songs as well, and when we wrote it we just got so excited about it. It just reminds me of our second American tour, and we had such a good time on that tour, so it really takes me back to a certain period in my life that was a really good point for us. And me and Ciára, it's 'our song' - we both love that song to pieces. And it's just a bop as well! It's really fun to play live. I was really excited to play it live.
CDM: Now that you're 23, what do you think you have learnt about love since you were 18 years old and experiencing the relationship you sing about in your song 'Eighteen'?
HEATHER: 'Eighteen' is about a really, really special person, who will always have a part of me. But when I was 'Eighteen' I was really naive. That was when I moved to Manchester and that's when I started university, and I moved away from my parents and out of my parents' home, and this was my first taste of complete freedom. So I went out and got into some bad situations, some good situations, but 18-year-old Heather seems so far away from who I am now. I was definitely very naive, but then again, it's good to be naive when you're younger, especially because I had some really great experiences, but half of them I wouldn't do again now at 23. But with relationships, at this age now, from when I was 18, if I could talk to my 18-year-old self, I would just say, 'Be more careful with people. Don't trust people so fast and make sure you're certain on people before you make any commitment, because time's precious. You shouldn't waste any time with someone that you don't sort of see yourself being with, for a good time.'
CDM: It's also cruel to the other person as well, knowing that you're wasting their time too.
HEATHER: Exactly, I think it's very important, that.
CDM: When you think about your past Heathers, is it like a jigsaw puzzle? Or more like Russian nesting dolls sitting inside each other?
HEATHER: I like that! I'd like to think it was a jigsaw puzzle. All these different ages and different stages in my life, but then eventually, it will all come together and then I'll sort of feel like I'm whole, in a way. Or I'm really happy with myself. Or I have a good understanding of myself. That's nice to think about that in that way.
CDM: It's something to aim for.
HEATHER: I'll let you know if I ever feel like I've completed the jigsaw. <laughs>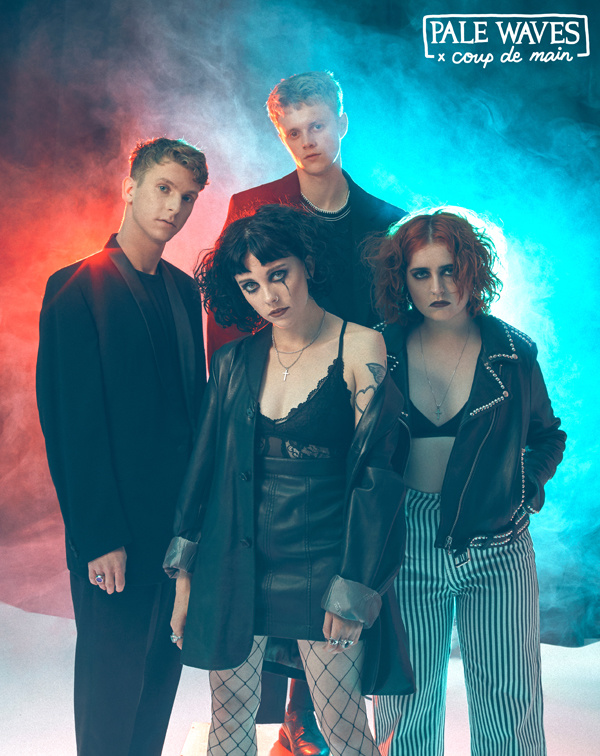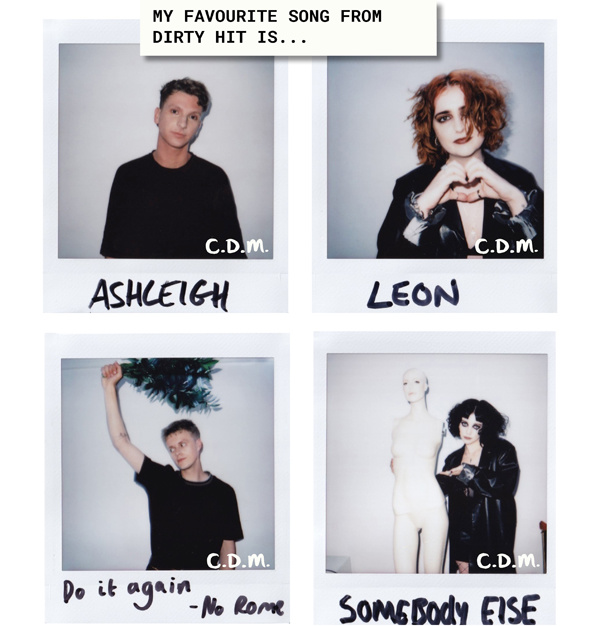 CDM: In the music video for that song, is it deliberate that you begin the video wearing your blonde wig from the 'Noises' video?
HEATHER: I wanted to carry that character on. In these different music videos it feels like a different world each time for me, because each song has a different emotion. Like 'Noises' was completely about me, and then 'Eighteen' was about me falling in love with this person at a certain point in my life. I love dipping into these different worlds and bringing them together - even just having subtle hints of these different Heathers from these other different worlds. So, I wanted to start it off with 'Monica'.
CDM: And you also wear a white dress. Is it the same white dress you're thinking about in 'New Year's Eve'?
HEATHER: It actually wasn't, because I saw it as a nightie/gown, but maybe I'll steal that one off ya and be like, 'Yeah, deffo!'
CDM: In 'When Did I Lose It All?' when you sing, "You're truly under my skin and that won't ever go," is that a sly reference to Avril Lavigne's iconic 2004 album, 'Under My Skin'?
HEATHER: <laughs> I didn't actually think about an Avril Lavigne lyric when I wrote that, but because I listen to Avril that much and I admire her, and I've grown up with her, I feel like she's just a part of me. Like, the lyric, "I drive fast just so I can feel something" from 'Drive', that was a reference to one of her songs where she sings, "Sometimes I drive so fast just to feel the danger" from 'Anything But Ordinary'. A lot of people undermine Avril Lavigne as a popstar. She was really influential for young females in that generation when I was growing up around 2002. I looked up to her so much, and feel like it relates back to how people don't take pop seriously or popstars seriously. And I feel like she had a lot of people undermining her actual talent and how relatable her lyrics really are. She's always been a big icon to me.
CDM: Why did you decide to change the name of 'You Don't Love Us Anymore' to 'Black'?
HEATHER: We have this thing where we've not got the official title, so we'll call it anything that comes to mind. 'Kiss' was called 'Ice-Cream' at first. We'll start writing something, and then Ciára asks me, 'What do you want to call it?', because we need to save it in Logic. So I was just like, 'I dunno, just call it 'Black' for now.' And then I write the rest of the song and then we make an official title for it. And I thought the smart thing would be to call it 'You Don't Love Us Anymore' because that's the main hook, but, and usually this never happens, but none of us, the whole band and even our record label, we all just couldn't get our heads around calling it 'You Don't Love Us Anymore'. And there were times where I was saying 'Black' onstage and everyone was like, "What?! What's 'Black'?" And then I was like, "I'm just going to have to call it 'Black' because I literally can't get 'You Don't Love Us Anymore' in my head." It was always 'Black'. So to save the confusion, we just called it 'Black'.
CDM: It's interesting you have 'Red' and 'Black' on the album. Do you have synesthesia?
HEATHER: No, I don't actually. Ciára actually has a slight bit of it because she'll write a piece of music and when she listens to it she will know the colour for the song. Like, she always tells me that this song is purple, or this song is red, or this song is yellow. She loves telling me what the song's colours are to her. She doesn't have loads of colours going on, it's always just one that she will see in a song. Like, 'This is purple. This is yellow.' I think that's really interesting.
CDM: In 'Karl (I Wonder What It's Like To Die)' you mention that you wrote a song for your grandad called 'Hide + Seek'. Will you ever release that song?
HEATHER: I wrote that when I was about 14, so I think if I was ever going to re-release it I would have to update it because I feel like it wouldn't be a clear representation of what I was trying to say, because I was 14 years old at the time. I would have to definitely look at it again from being older and knowing more about my grandad and knowing more about the situation and him. But I'd like to re-release it at one point, because I think there's a lot of people that want to hear it. It's really interesting, because my mum and my brother actually helped me write that song.
CDM: Is your whole family musical?
HEATHER: No, not at all, it's just my dad, surprisingly, but he didn't help at all. He works away, so when I was growing up a lot of the time it was just me, my mum and my brother. My dad works in construction and travels to inspect building sites and stuff. He worked in Dubai for quite a time. We visited him a few times, so that was a nice holiday, but he just works in the UK now from Monday to Friday and comes back for the weekends. But sometimes he would go to different countries to work, and sometimes I wouldn't see him for a year because I couldn't because of school and stuff. So I was going into a studio because my mum paid for it for my birthday present, and 'Hide + Seek' was the last song that I couldn't get right - and this comes back to me second-guessing the more important songs to myself, like 'Noises', 'Drive', 'Karl', and they helped me finish the song. So that's a kind of cute story.
CDM: Have you been working on any new Pale Waves music?
HEATHER: Yeah we have quite a lot of new music on the go. Playing them a lot in soundcheck and it's really refreshing and nice, because we don't have the pressure of the album. But we're going to record an EP in February with Mike Crossley, so that means we're going to have to go to LA to record it. So back to America! But it's nice because there's not so much pressure. Obviously an EP's shorter, and we already have more than enough songs for the EP, but it's just getting them right. And we want it to be different as well - which it definitely is, it's a lot different. It's still pop music, but I feel like we've been more experimental. We wanted the first album to be so right that I feel like sometimes we restricted ourselves a bit, but with this EP we're sort of going broader and allowing ourselves to open up to new things.
CDM: Will 'Antisocial' be on your next EP?
HEATHER: Yeah, I think so. Well, definitely, because our managers really love that song, so it has to be. And that's completely finished and done. I mean, we could play it live tomorrow. Obviously we're not going to, but that's how ready and finished it is - like, I would be okay with playing it live.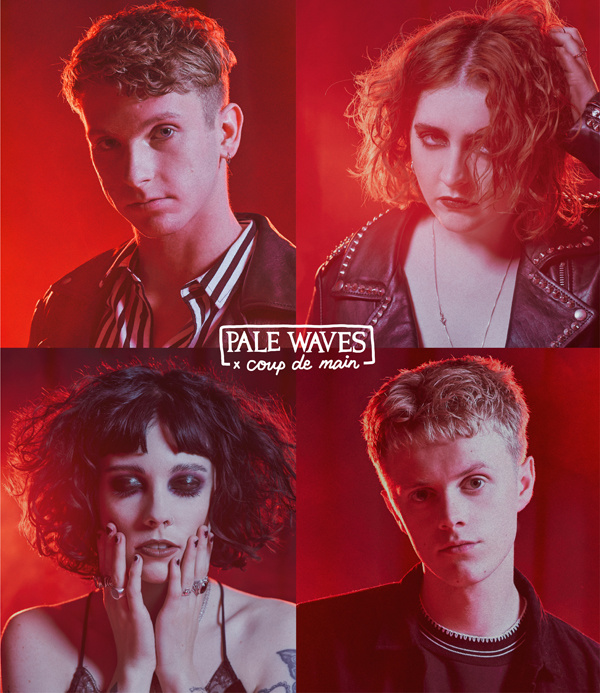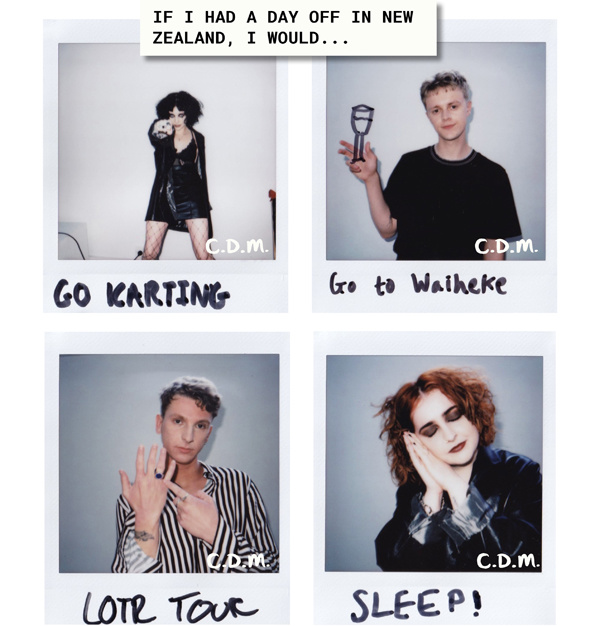 CDM: A couple of days ago you tweeted from the Pale Waves band account, "I don't like your girlfriend, I'm pretty sure she hates me too." Are those lyrics from a new song?
HEATHER: Yup, that's correct. I've not actually thought of a title yet. Maybe I'll call it 'Girlfriend', but then everyone will be like, 'That's an Avril Lavigne song.' Which is not a bad thing, but—!
CDM: You can't escape Avril.
HEATHER: I know! That's what I mean! Everyone's just gonna be like, 'That's Avril. Again.' But I didn't actually think of Avril when I wrote this song, it was just a coincidence. Like I said, maybe a part of her is just in me somewhere.
CDM: What happened to your song with the lyrics, "Does she sit with you in the rain?", that you had been teasing, but didn't make your album?
HEATHER: No, it was very close to going on the album but I needed to have 14 tracks or 12 tracks, it couldn't be 15 or 13, because that would just unsettle me. It needed to be an even number. So it didn't make the cut, but it's pretty much finished. It's a very R&B inspired track, it's very different to anything we've ever written before, but Ciára's obsessed with R&B and that's what she listens to mainly - she listens to that and a lot of hip-hop and rap music. It's completely different to anything we've ever released before, if anything, it's the closest thing to 'Loveless Girl'.
CDM: Will it make the EP?
HEATHER: Maybe. Hmmm... It's really hard to say, because we've actually surprised ourselves with how much new material we've written in this time period, so I think it's going to be like a penalty shoot-out again with this EP, but I'm pretty sure 'Antisocial' is going to go on there and 'Girlfriend', because 'Girlfriend' is an absolute bop.
CDM: And what's next for Pale Waves?
HEATHER: Next year we're going to go on tour with The 1975 again, but this time in the UK, and then again in America, so it's going to be super fun. And then we're just doing so many festivals. We have a calendar on our iPhones and our manager updates it with what we're doing, and then there's stuff in there for August next year, so as you can imagine, we're very busy. We're going back to Japan as well! So that will be amazing, the fans over there are so lovely and genuine, so I'm really excited to go back. And it's such a beautiful place as well. You look somewhere and you can be entertained automatically. Everything is just happening all at once. So just more shows really!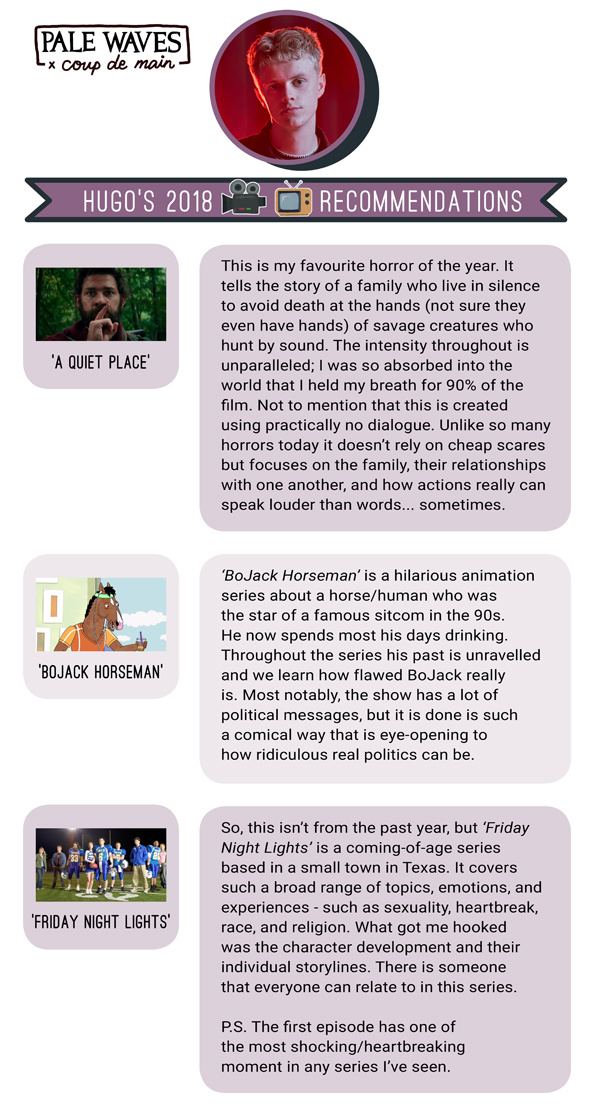 Pale Waves' debut album 'My Mind Makes Noises' is out now!
Click here to purchase.
And the Pale Waves x Coup De Main Zine #18 can be pre-ordered here.
Watch the 'Noises' music video below...