Interview: 2018 Must-Know - Pillow Person
Interview: 2018 Must-Know - Pillow Person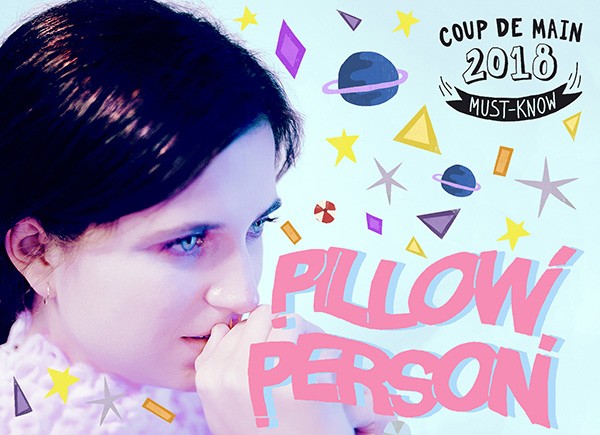 Sarah Jones has played drums for all your faves, from the likes of Hot Chip, to Harry Styles, Bat For Lashes, and Bloc Party's Kele Okereke, but under her solo musical moniker of Pillow Person she cooks up electro-driven experimental soundscapes (often accompanied by fanciful visuals).
MUST-LISTEN: 'On Your Way', 'Go Ahead', 'In My Game'.
YOU WILL LIKE, IF YOU LIKE: QT, Hot Chip, Metronomy, Charli XCX, Jungle, XXYYXX... and eating cheese and crackers at 3am.
COUP DE MAIN: How does your songwriting process work?
PILLOW PERSON: It's mostly about mashing keyboards. I love finding sounds without sitting down to necessarily write a song. I can do that for hours and hours. They usually end up being too annoying to use, but it's a fun starting point. I don't find it very fun just working on computers only at all, even though there are endless possibilities with them, somehow I find it more restricting when writing. I am only really based in my bedroom. There's a lot of messing around but I always have a very good idea of what it's about because it's when I can't usually think about anything else. I always sing melodies first and think about drums last. That's not usually how I would do something in a studio. If I get stuck, I just have a shower.
CDM: Do you find it important with Pillow Person to write, record, and produce the music entirely yourself?
PILLOW PERSON: It was the first time I had worked like this. I usually make music with many people, but this time I wanted it to be different. I was getting further than I had done before writing complete songs and had always thought writing lyrics was something for other people to do until now. I do work with my friend Charlie March who has been helping me produce. He is a very good guide and also makes amazing Japanese food. I played him some demos and we share a lot of the same music tastes, so I didn't really need to explain what I was going for. I learnt a lot from him!
CDM: How do you know when a song is complete in terms of writing and production?
PILLOW PERSON: When we think it's getting to the end, we go out for a walk, come back and play it. I like to listen to things in my car too. I tend to add more things and then realise it's too much, get rid of things, and then I know it's finished. I also have a habit of thinking things are finished way before they actually are. I like sloppy but I'm realising that it's best to sit on things for a little bit to check it's at its best.
CDM: What do you think is the difference between a good song and a great song?
PILLOW PERSON: I always find the great songs end up being slow-burners. If I like it immediately, I might overdo it quickly and then it becomes boring to me.
CDM: You've made Spanish and Japanese versions of 'Go Ahead' - I know you're half-Spanish, but what made you want to record the Japanese version?
PILLOW PERSON: I've had the best times in Japan, touring and exploring. I've been going to the arcades there and love the music that is blasted out. I love listening to different accents when people are not using their first language. I feel like I have a pretty standard British accent, apart from I say 'toothpaste' with a Welsh accent. So I think it's fun to sing in a language you are unfamiliar with, I can't imagine how it sounds to others.
CDM: What was the recording process like for these alternative versions?
PILLOW PERSON: I have very patient friends, and so far have swapped a dinner for a translation. It's actually quite embarrassing for me, but I did it to myself so I can't complain. We talk about what I'm trying to mean with the lyrics and try to make it work within the song having to use different amounts of syllables. Sometimes it becomes quite a mouthful to fit it all in so you need to change it slightly. Then I need to practice for a while.
CDM: I love your new 'Kitchen' music video! What was it like dressing up in that amazing costume?
PILLOW PERSON: You know, it wasn't that hot. I thought it would be. I scared a few joggers who just thought I was a tree. Underneath, I was painted gold. That felt more weird because it was in my ears.
CDM: When did you become involved with Moshi Moshi Records?
PILLOW PERSON: I knew of the label for a long time and we met in London at a festival. They have put out Hot Chip many years ago, so we had a connection there. They are a good bunch!
CDM: You put together a mix for David Byrne's Luaka Bop label - is this something you want to continue to do?
PILLOW PERSON: It was a one-off thing for Luaka Bop. They asked me to put together a mix of my choice, so I chose to put together a playlist of Spanish songs that I used to listen to with my Nan growing up. They always have different people making mixes which are always a good listen. I had been playing in the William Onyeabor band and doing that I got to know everyone from the label. I was super happy to do this with them, they are always doing super interesting things.
CDM: If you were a country, which song would be your national anthem?
PILLOW PERSON: Today it would be 3 Of A Kind's 'Babycakes'.
CDM: Having been on tour with Harry Styles last year, how have you juggled fitting in working on Pillow Person while out on the road?
PILLOW PERSON: To be honest, I didn't have much time. I made my last video on one day off before starting a tour, so I was very happy to get it all finished. It's always good to do something completely different though and come back to writing after a tour. You go into someone else's world for a bit which makes you see things a bit differently. I always get ideas when I'm travelling and then can get back to them properly when I'm home from tour. It's good to just go out and experience things without feeling like you have to make something out of it all the time.
CDM: What do you have in the pipeline for 2018 with Pillow Person?
PILLOW PERSON: I have a record coming out of 4 remixes of mine by Bogdan Raczynski, Oliver Coates, Lechuga Zafiro and IYDES on Acid Waxa. I want to finish an album and have started to collaborate, which I hope will be finished soon.
CDM: You're one of our 'must-know' artist picks for 2018… who are yours?
PILLOW PERSON: Fresh Crisis! Check him out coming out on my label NFNF Records very soon :)
Watch the 'Kitchen' music video below...
Load next