An online accompaniment to CDM #2 - The Power Zine.
An online accompaniment to CDM #2 - The Power Zine.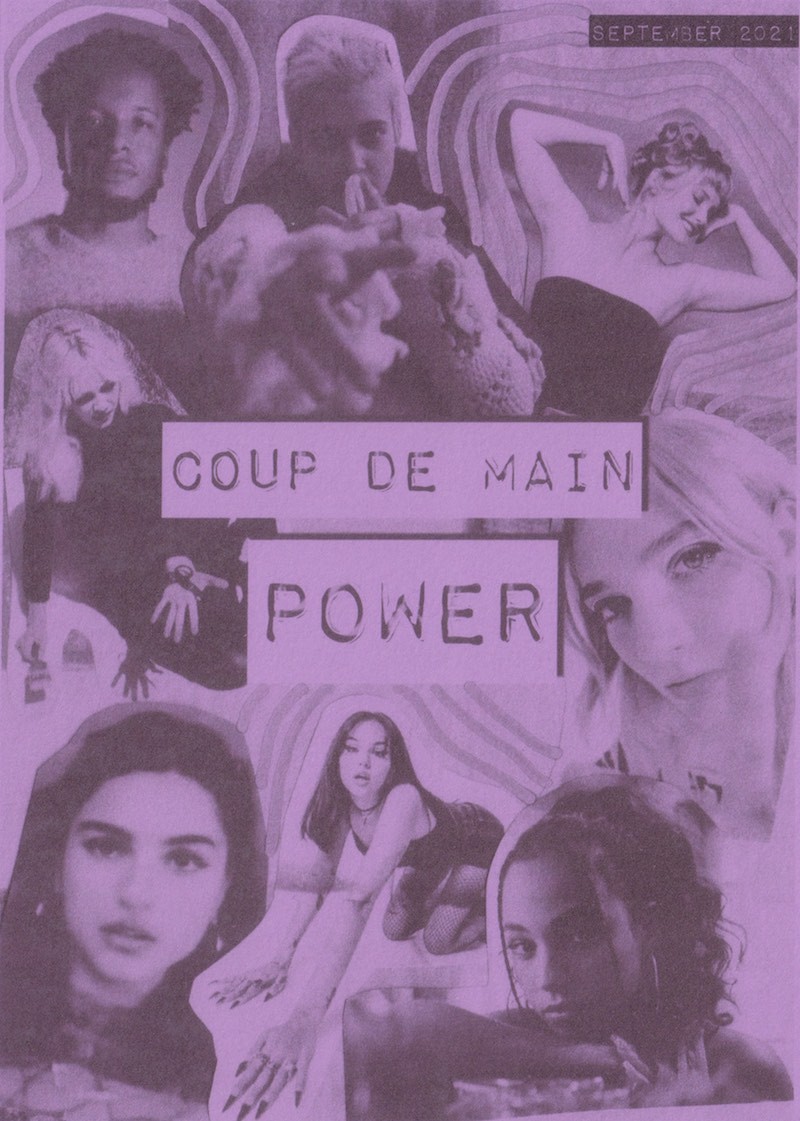 The theme of this month's DIY zine is 'power' - and we have contributions this month from guest curators: Alexandra Savior, Cautious Clay, Cherry Glazerr, Evann McIntosh, Kacy Hill, Maggie Lindemann, María Isabel, renforshort.
Exclusively for this print zine, each guest curator has put together two pages relating to what power means to them.
Here's a li'l rundown:
ALEXANDRA SAVIOR
Not only a talented musician (both her albums 'The Archer' and 'Belladonna Of Sadness' are long-time favourites of ours), Alexandra Savior is also an incredibly gifted visual artist - her contribution for this month's zine is magnificent.
About her latest album, Savior shares: "I think I went through a period of time where I was very innocent and I was being taken advantage of by a lot of manipulative forces in my life... I was very young and naive when I first left home and came into the music industry. I think I was prey for a lot of those sort of characters to come in and control what I was doing. I never felt I was being seen for who I was; I was being seen for what they could push me into and what was most sellable. It was only when I was rejected by those forces when I began to have a voice... I wrote from a place of being rejected and confused, insecure and angry and depressed. But I was writing about me, and I think creatively there was a weight lifted off of me and I feel like so much has opened up to me. I think I have a lot less anxiety in general now."
Watch a wonderful live session from Savior below:
CAUTIOUS CLAY
Having released his debut album 'Deadpan Love' recently, Cautious Clay says of the album and its title: "'Deadpan Love' is something that I have inside me; the way I cope with the worst of what the world has to offer. So much of life and relationships are spent in gray areas—we mistreat the people we love and we're friendly with the people we hate. This is an album about those complexities in friendship, investigating toxic behavior and self-worth."
Watch a magical rendition of 'Wildfire' below (complete with a flute solo) and try not to cry from becoming overwhelmed with emotion:
CHERRY GLAZERR
You'll have heard Cherry Glazerr feature on the Willow Smith album-closer, '¡BREAKOUT!', and about recent single, 'Big Bang', frontwoman Clementine Creevy has said: "The lyrics came from feeling like I was growing apart from someone who was close to me in my life, and the song is essentially about heartache, but it's euphoric at the same time. That's what I like about it — the intensity of those very personal feelings paired with a sort of huge, exposed energy. I feel like I was able to let a lot out with this song. It feels really special to me."
EVANN MCINTOSH
17-year-old Evann McIntosh last month shared a new project, 'Character Development', which was written and recorded mainly in their suburban Kansas bedroom. They describe it as: "One of many phases of my life I've been able to encapsulate. If this project had a label on it like a scrapbook would, it'd say 'SOPHOMORE YEAR OF HIGHSCHOOL 2018-2019'. It's a character, with a full backstory and all sorts of obstacles. It's a snow globe forever holding a very specific time and place in my life that has passed and exists only to give context to the next that will do the same for whatever after and so on and so forth. 'Character Development' is a shed layer of skin. A very nice, meaningful shed layer of skin."
Here's a music video for EP highlight 'Electricity'...
KACY HILL
Promising that, "I have more music for you real soon," Kacy Hill last month released the glass-half-full, 'Seasons Bloom' - the first song from a forthcoming new album. She says: "'Seasons Bloom' is about finding refuge and moments of calm in the person I love. Over the course of the pandemic I had gotten used to writing exclusively at home on my own—a big creative departure for me—so when John [Carroll Kirby] and I worked together he would come up with a few piano or synth ideas that I could take to go. Jim-E [Stack] came to a session with us one day and plucked a few notes on the bass that started a weird lil jam called 'Seasons Bloom.' I took the session apart at home and turned it into something entirely different but kept the name."
MAGGIE LINDEMANN
"I'm so excited for the world to finally hear what I've been working on for the last 2 years," declared Maggie Lindemann at the start of this year, ahead of the release of her debut EP, 'PARANOIA'. And listen, the world has, with songs from the EP having been streamed in the millions. She continued: "Every song has a different story, and I can't wait to see how they're interpreted."
Lindemann performs fan-favourite 'Knife Under My Pillow' below:
MARÍA ISABEL
"What happens when you get older? You buy yourself your own flowers / Separate love and lover / Found me a new superpower," opens María Isabel in recent single, 'Buy Your Own Flowers', and it's this shrewd romanticism that makes Isabel, a life-long poet, one to watch.
Isabel last week tweeted, "Don't give men ur phone # till ur married," and her new EP is titled, 'i hope you're very unhappy without me'... Need we say more? She's our people.
RENFORSHORT
"I wrote a bunch of songs that are pretty different and picked the ones I liked the best because what I realised is that an EP to me is really just a reflection of yourself," renforshort told us of the writing process for her latest 'off saint dominique' EP.
And about the relatable inspiration behind her song 'virtual reality', the CDM 2021 Must-Know artist also said: "I think there are many reasons why your cell phone can have such a big effect on your mental health - not only is there this constant need to be something that you're not, to live up to some sort of expectation that you assume people have on the Internet, but there's also the need to constantly put your life on display and have people comment on what you do. I try to limit my time on social media while still engaging with my fans and audience, but there are times where it just becomes too much and I find myself deleting all my social apps at least for a day or a couple hours to get my mind off it. I've also been trying to make it less of a routine to wake up and instantly check my phone but it's practically impossible because that's my life at this point, but those are some things that I've done to kind of try and limit it."
Order this month's DIY zine here.
Load next