Interview: 2019 Must-Know - Slow Pulp
Interview: 2019 Must-Know - Slow Pulp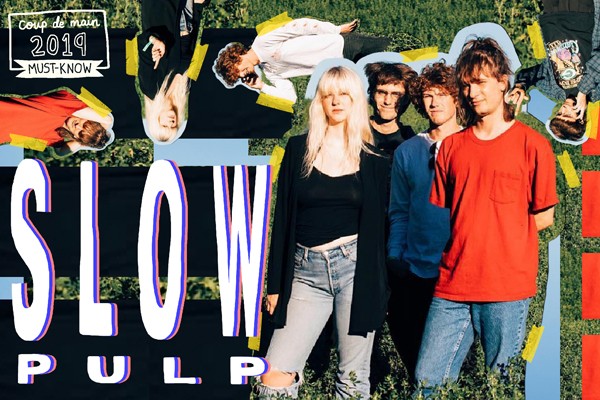 Hailing from Madison, Wisconsin, four-piece Slow Pulp (comprised of Teddy Matthews, Emily Massey, Henry Stoehr, and Alex Leeds) have spent the past few years since releasing their 'EP2' touring the country and honing their dreamy indie-rock sound.
Just listen to their latest release 'Steel Birds', an anthemic warning against players - with a guitar riff that'll be stuck in your head for days.
Having toured last year with past Coup De Main Must-Know Post Animal, and kicking off 2019 with a tour with Vundabar, it's set to be another busy year for the exciting act.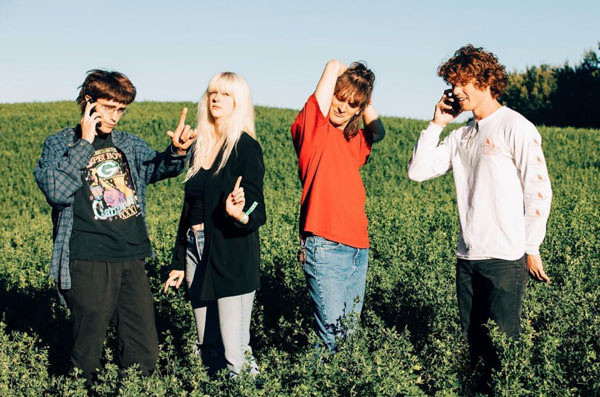 MUST-LISTEN: 'Steel Birds', 'Die Alone', 'Preoccupied'.
YOU WILL LIKE, IF YOU LIKE: Wolf Alice, Post Animal, Twin Peaks, Black Honey, The Big Moon, Dream Wife… and sharing a friendship pizza with your best buds.
COUP DE MAIN: What was running through your mind while writing 'Steel Birds'?
SLOW PULP - EMILY: 'Steel Birds' came from an idea that I found in a notebook from a couple of years prior to writing the song. I had written a very bad poem that compared the infamous term "fuck boy" to a lapidary (a gem stone collector). The gems being great people that were tossed aside by their lovers. When Henry had emailed me the instrumental I felt that the concept might be a good fit and act as an anthemic warning.
CDM: Is that song a taster of what we can expect to hear from you in 2019?
SLOW PULP: 'Steel Birds' was the last song we released before making the move so it's an interesting marker of time. It's definitely in the same space as the other new songs but our writing process has become a lot more immediate now that we're all living in the same place, and we are excited about how that will be reflected in the way the songs relate to each other.
CDM: Your live show looks like so much fun! Does the live element of your band influence the way you write music, when you're thinking about how it'll translate live?
SLOW PULP: Thank you! There is a different energy to our live set than the one we put forward in the recordings. They do inform each other but the live show feels like a different process than recording music. A lot of our music is written and recorded before we start playing it for an audience, and adapting them is a writing process in itself - we see it as an opportunity to arrange the songs in a way that adds depth and context to the recordings.
CDM: We love your friendship with Post Animal! What is your favourite Post Animal song?
SLOW PULP: We love those sweet, talented boys <3
SLOW PULP - HENRY: 'Give'.
SLOW PULP - ALEX: 'Eel'.
SLOW PULP - TEDDY: 'Dirtpicker'.
EMILY: 'Victory Lap / Danger Zone'.
CDM: These questions are from Post Animal, who ask: How big of a role has the tight-knit Madison group of friends played in the culmination and progression of Slow Pulp as a band, and do you think you'll take that Madison inspiration/influence wherever you go (like Chicago)?
SLOW PULP: There's a strong sense of closeness in the Madison scene and there's a lot of shared members between bands, which kind of enabled Slow Pulp to come together. The feeling of community and support in that scene is something that I think has stuck with us all, and we hope to bring those values with us wherever we go. There are so many artists we like and respect in Chicago right now and it feels like the scene is also built on deep friendships and supporting one another which was a major reason we decided to move here.
POST ANIMAL: Will Teddy ever run for Mayor of Madison? If so, what year can we expect the campaign to start?
SLOW PULP: Teddy can't speak on this publicly at the moment... Please contact his campaign manager for further questions.
POST ANIMAL: Who lives in the Span Man these days?
SLOW PULP: Some friends! Teddy and Henry lived two doors down from it last year - finally left the block!
POST ANIMAL: Who has the smelliest van farts?
SLOW PULP: Quantity; Alex. Quality; Henry.
CDM: How does your songwriting process work?
SLOW PULP: For a long time our process was pretty fragmented by location and time. Definitely did a lot demoing and swapping ideas through the net. We all write and play on various instruments and share ideas with each other. But now we're all living together and that process is shifting by the day! We think our songwriting will grow a lot from being able to work with each other on a day-to-day basis.
CDM: Do you write your lyrics specifically for the songs, or do you write poems or prose and then evolve them into song-form?
SLOW PULP - EMILY: I work both ways. I have been trying to write down anything that comes to mind, that I find interesting or meaningful to me. Often times it's just a collection of words in list-form, or a couple of one line sentences that I base the song off of. The instrumental, or the base chords come first, and I decide what material would fit the emotion that the music evokes. Sometimes I already have an idea developed before the song, and sometimes I come up with lyrics on the spot. I have never written lyrics first, which is something I would eventually like to explore.
CDM: Lyrically, what's your favourite song that you've written?
SLOW PULP: 'At Home' was a song that we wrote the lyrics to as a group. It embodies a very personal experience that we've all had in our own ways. Writing it was kind of a way to explore a sentiment we all shared that we hadn't articulated beforehand. It was cool how this very individual perspective emerged from us as a group as we wrote it.
CDM: What do you hope for people to take away from listening to your music?
SLOW PULP: It's hard to wrap your head around something really close and personal you've worked on and how it's perceived by people you've never met, but thats the exciting part about it. We all have experiences and emotions that are personal but also related to the moment, history, and location. Sharing something that is personal to us isn't meant to evoke a specific response, but to be a part of a larger conversation that emerges from everyone involved.
CDM: If S.L.O.W. P.U.L.P. was an acronym, what would each letter stand for?
SLOW PULP:
S- swiffle
L- lift
O- opal
W- whipple
P- prickle
U- umby
L- lumpy
P- puppy
CDM: You're one of our 'must-know' artist picks for 2019… who are yours?
SLOW PULP: SON! Family Reunion, CRASHprez, Lameena, Sam Evian, DISQ, Kevin Krauter, Matrix, Lala Lala.
CDM: If you could steal one thing without consequence what would it be?
ALEX: Time.
EMILY: Fancy foraged mushrooms.
TEDDY: The mayorship of Madison, WI.
HENRY: I'd thief Brancusi's 'Bird In Space'.
CDM: If you were a country, what would be your national anthem?
SLOW PULP: 'Somewhere Only We Know' by Keane.
Watch the 'Preoccupied' music video below…
Load next