Mini Mansions announce 2015 Australian headlining shows.
Mini Mansions announce 2015 Australian headlining shows.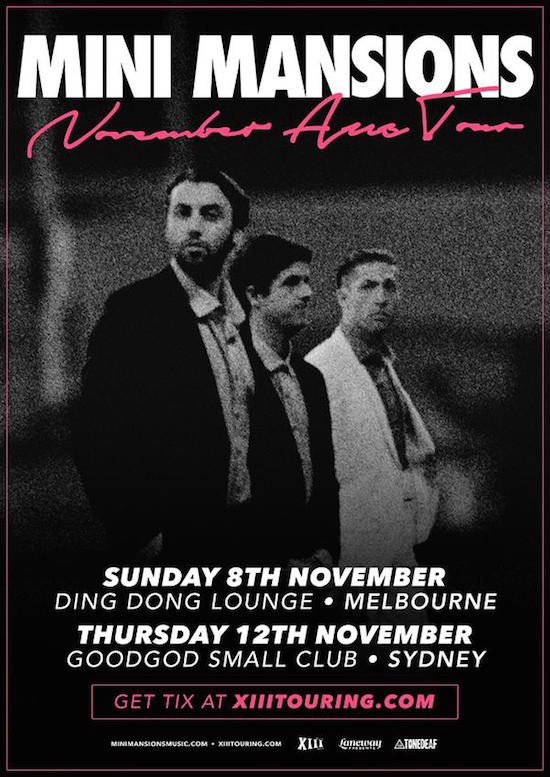 In addition to their upcoming Australian shows with Tame Impala, Mini Mansions have also announced two intimate headlining shows for Sydney and Melbourne next month!
MM will play Melbourne's Ding Dong Lounge on November 8th and Sydney's Goodgod Small Club on November 12th.
Tickets for both shows are already on sale! Click HERE for more info.
"Mini Mansions are in the midst of a victorious year. Following their break out performance at SXSW, the band have toured with the likes of Arctic Monkeys, Royal Blood and New Pornographers and made their Glastonbury debut this June, which NME called "as elegant as the clothes on their backs."
TICKETS FOR ALL SHOWS ON SALE WEDNESDAY 7 OCTOBER 10AM (AEDT)
Mini Mansions have steadily built a buzz this year following incredible reviews for their new album The Great Pretenders released earlier this year via Caroline Australia.
The album features triple j favourite 'Vertigo'.
The Great Pretenders is probably the only record you'll hear this year that features both Brian Wilson (on 'Any Emotions') and Arctic Monkeys' Alex Turner (on 'Vertigo') as guests.
To coincide with the tour announcement the band recently premiered the new video for Mirror Mountain, starring LA legend Angelyne - and her pink Corvette Stingray."
Click HERE to read our latest MM interview.
Watch Mini Mansions perform 'Creeps' live below...
Load next