Review: The 1975 - Spark Arena, September 2019.
Review: The 1975 - Spark Arena, September 2019.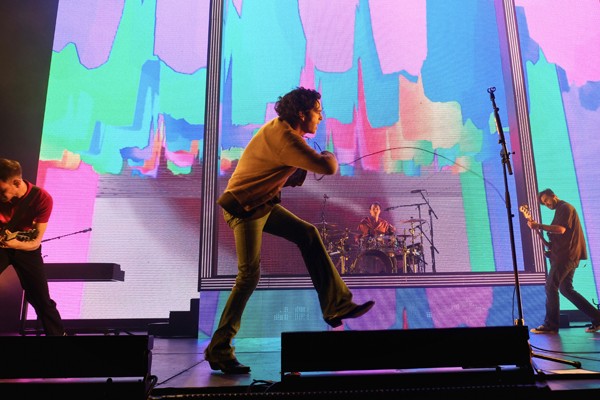 "Come and study at the church of Matty!" The 1975 frontman Matty Healy exclaims partway through the band's extraordinary return to New Zealand last night at Spark Arena. He's finished reading aloud a sign from a crowd attendee which reads, "I skipped an exam for this, it's exam week bitches," which he's thoroughly amused by, assuring the sold-out arena that the show in itself is a "cultural life lesson," and after witnessing the sheer spectacle of the show, he's not far from the truth.
Fellow Dirty Hit signee and collaborator No Rome took to the stage first to open the show, performing both old and new material with a band made up of friends from his home in Manila. Songs like 'Do It Again' and 'Pink' highlighted his talents in a live setting, before he closed out the set with 'Flowers On My Neck' - a song which samples New Zealander Lontalius.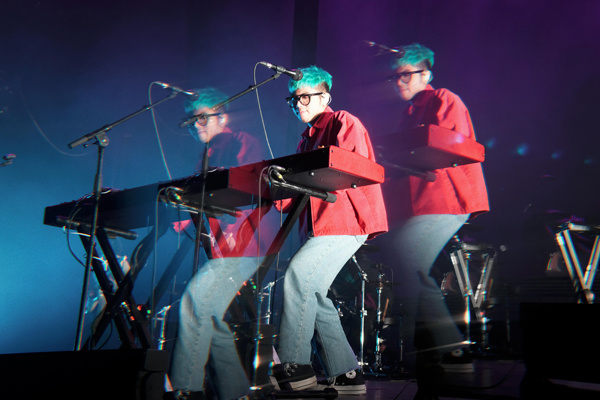 Half an hour later and The 1975 took to the stage with their signature rectangle behind them, and the set beginning with a feverish high-intensity with their latest single 'People', encouraging people to wake up to the chaos around them.
Throughout the set, Healy showcased why him and his three fellow bandmates (George Daniel, Adam Hann, and Ross MacDonald) are one of the biggest bands in the world today - alternating between hits like 'TOOTIMETOOTIMETOOTIME' and deeper cuts such as 'Undo' and 'You' with total ease.
With their upcoming album 'Notes On A Conditional Form' set for release next February, only one other new song is showcased in the current show; instrumental track 'Depth', which followed No Rome re-appearing on-stage for a performance of his very excellent collaboration with the band, 'Narcissist'.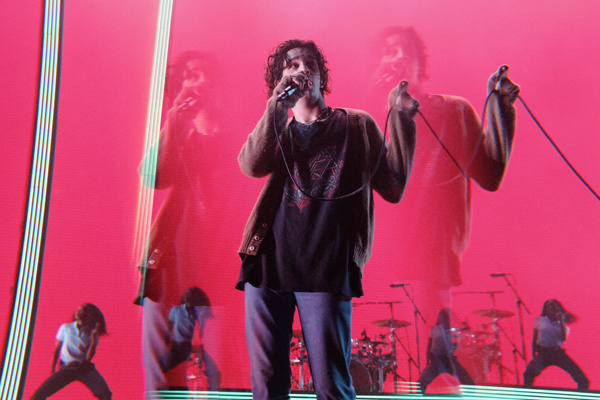 "We come bearing phat tunes," Healy declared in a brief pause between songs, and he didn't lie - with the audience lapping up newer songs like 'It's Not Living (If It's Not With You)', as well as renditions of fan-favourites 'Robbers' and 'Somebody Else'.
A poignant moment came later in the show during the 'Notes On A Conditional Form' version of 'The 1975', which saw Healy sit on the edge of the stage and listen to Greta Thunberg's every word play out through the speaker, urging everyone to stand up for climate change - before him and his bandmates returned for just four more songs.
With the band already set to return to headline Laneway Festival next January, last night showcase a band at their finest - who show no signs of slowing their pace anytime soon.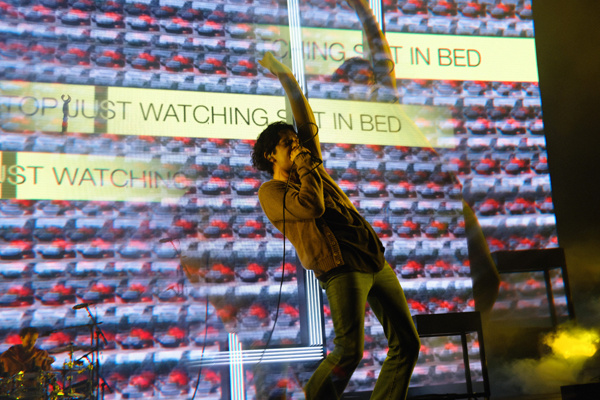 Set-List:
The 1975 ('A Brief Inquiry Into Online Relationships' version)
People
Give Yourself a Try
TOOTIMETOOTIMETOOTIME
She's American
Sincerity Is Scary
It's Not Living (If It's Not With You)
Love Me
I Couldn't Be More in Love
Undo
A Change of Heart
Narcissist
Depth
Robbers
fallingforyou
I Like America & America Likes Me
Somebody Else
If I Believe You
You
I Always Wanna Die (Sometimes)
The 1975 ('Notes On A Conditional Form' version)
Love It If We Made It
Chocolate
Sex
The Sound
Load next